Joinery: Beauty and Durability in Equal Parts
Exceptional joinery is a celebration of craftsmanship that we expose whenever possible. Properly formed it works on every level and leaves nothing to hide. Our furniture uses a number of different exposed joints, dovetails, finger, box, and wedged through tenons to show the simple, durable elegance of fine work skillfully completed.
The use of joinery in woodworking can be traced back to antiquity. The Ancient Egyptians show evidence of using a wide variety of joinery as far back as 3100 B.C and may be most celebrated for their use of the dovetail joint in their sarcophagi.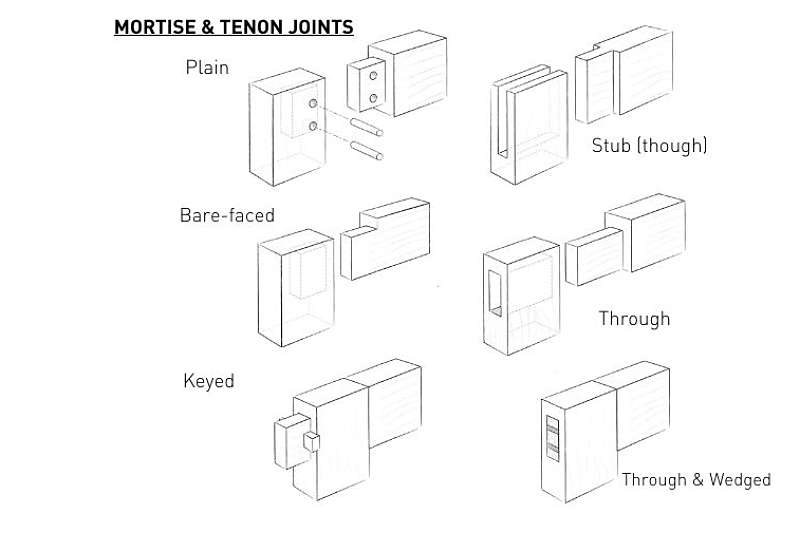 There is also evidence of Egyptian woodworkers using mortise and tenon joinery in their pieces as well as pegs, dowel, leather strapping as clamps, and glues. In 720 B.C the Chinese began developing sophisticated methods of woodworking, including precision measurement tools for the furniture they built and perhaps the most celebrated, fitted joinery, was mastered by the Japanese in the years to come.
Our furniture celebrates these ancient skills and techniques. From the bridle joint that is most celebrated in our New Studio Collection, to the hallmark mortise and wedged tenon joinery in our chairs and stools, the dovetails in our Vita Collection and casework, or the clean finger joinery in our Cumberland Collection. We have taken a cue from the past. Creating furniture that showcases the beauty of traditional joinery as utility and ornamentation-simply made and masterfully executed.
Strong and showy, the bridle joint creates the clean signature look to our New Studio Collection. With both the mortise and tenon exposed, this simple yet elegant joinery is a modest example of fine craftsmanship that looks great without sacrificing the integrity of the collection. The striking design, complete with the exposed joinery, makes it a suitable addition to large master suits or smaller urban quarters.⠀
While the mortise and tenon joint may not be as celebrated as the dovetail, this joinery is sturdy, simple, strong, and graces a full 90 percent of the furniture at Thos. Moser, including most of our tables, dressers, cases, beds, and many of the chairs.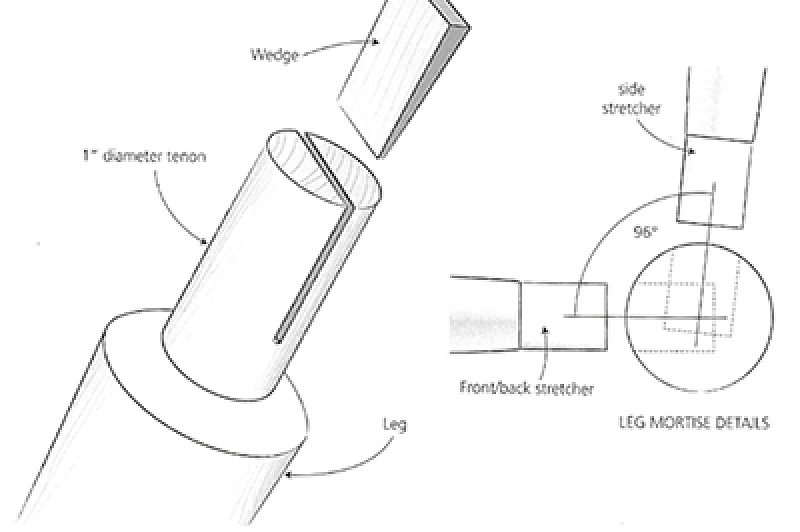 We would be hard pressed not to acknowledge our love for through mortise and wedged tenon joinery. Its inherent design is a hallmark look for our Eastward Collection, The New Gloucester Rocker, and our iconic Continuous Arm Chair. When the tenon passes completely through the mortise stock, it is called revealed, or through tenon, which is usually tightened by one or more wedges for additional strength. This strength and beauty are created by driving the wedge perpendicular to the grain in the mortise stock.
Dovetails are core to Thos. Moser brand.  Every drawer we make is made with dovetail joinery, and many are a combination of two wood species – a dark wood such as walnut on the exterior of the drawer and a light wood such as ash for the interior, as is the case in our bedroom dressers, credenzas and sideboards. These lapped or half-blind dovetails create a beautiful contrast further enhancing the furniture's beauty while providing unmatched durability.
A dovetail is a joinery technique often used in cabinetmaking to join two pieces of wood at a 90-degree angle. Dovetails are often an implication of quality because of their complexity and difficulty to  execute perfectly. A dovetail joint is created by cutting a series of pins and tails out of two boards of wood and interlocking them to create a snug bond.
A finger joint, also known as a box joint, is made by cutting a set of complementary, interlocking profiles in two pieces of wood which are then glued. The cross-section of the joint resembles the interlocking of fingers between two hands, hence the name "finger joint". The sides of each profile increases the surface area for gluing, resulting in a strong bond that is visually appealing and the hallmark look to our Cumberland Collection.
Our use of traditional joinery methods allows the wood to work for life, using the strength of the wood to hold the furniture together. Through beauty and function, the exposed joinery we celebrate in our furniture adds depth, character, and value to a gorgeous piece that is made for generations.