In 2014, aboard a ferry from Portland, Maine, Tom and Mary Moser headed 185 nautical miles northeast to Nova Scotia. On the morning they were due to disembark from the ferry, they sat down to enjoy a light breakfast. But it wasn't the scenery that caught Tom Moser's eye; it was the simple cafeteria chair he was sitting in. The steel and plastic chair felt as though it molded to conform to Tom's back. "It wasn't bad looking, but it was strictly industrial and not very well-made. However, it was incredibly comfortable, particularly in the way it captured my back. That was what impressed me," recounts Tom.
A chair inspired by ferry rides and Pringles
Several months later, Tom and Mary visited an exhibit at the Peabody Essex Museum, and Tom noticed another chair featuring a similar curvature to the back. The shape, known as an anticlastic curve, is created when two curvatures move in opposite directions from a given point. The convex curve, which arches upwards, runs along the longitudinal plane. In contrast, the concave curve, which dips downward, runs along the perpendicular plane, creating a shape that moves from its center in opposite directions, horizontally and vertically.
Tom took time to thoroughly digest this extraordinary shape, especially when he noticed it in everyday items, from jewelry to architecture and even Pringles! He began sketching a design he hoped would ultimately transpire into a wooden chair offering the same flexible experience as the plastic cafeteria chair. When applied to the backrest of a chair, Tom discovered that the anticlastic curve perfectly mirrors the curvature of the human back. Supporting the lumbar in two directions, the chair's solid wood back sits below the shoulder blade and terminates just above the lower back, creating a chair that indeed mimics the flexibility Tom found in the plastic chair.
To create this shape from solid wood, three staves of wood are joined together, clamped in place, and allowed to cure overnight. From here, the rough form of the anticlastic curve begins to appear through refined handwork. When the chair back has received its final touches, the craftsperson perfects the fit into the legs, creating a sweeping monolithic structure that appears as though it is sculpted from a single piece of wood.
The anticlastic curve; unexpected inspiration.
A Pringle may be the last thing that comes to mind when thinking of design inspiration. However, when popped from a can, the similarities are striking. It's hard to pinpoint the true inspiration that would breathe life into the Auburn chair's design and its anticlastic back— perhaps it was divine intervention, a lifetime of studying familiar shapes and forms, or the perfect lunchtime accompaniment. Beauty is in the eye of the beholder, which is what Tom saw in the metal and plastic cafeteria chair. But, for a chair that Tom designed in his eighties, he honed in on this vision and created perhaps, in his words, "My most comfortable solid wood chair yet."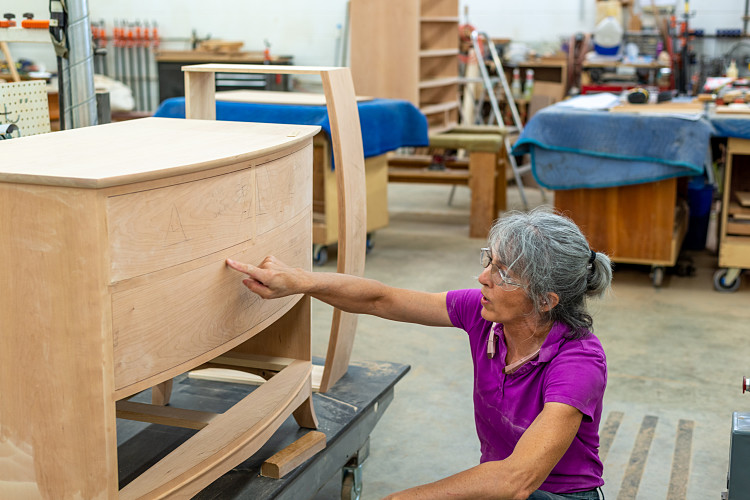 Building with solid wood takes patience and a deep appreciation of its mercurial nature to create a result that will last a lifetime. Each wood species has its own unique personality, growth pattern, and tendencies to react to the elements in different ways.
Read More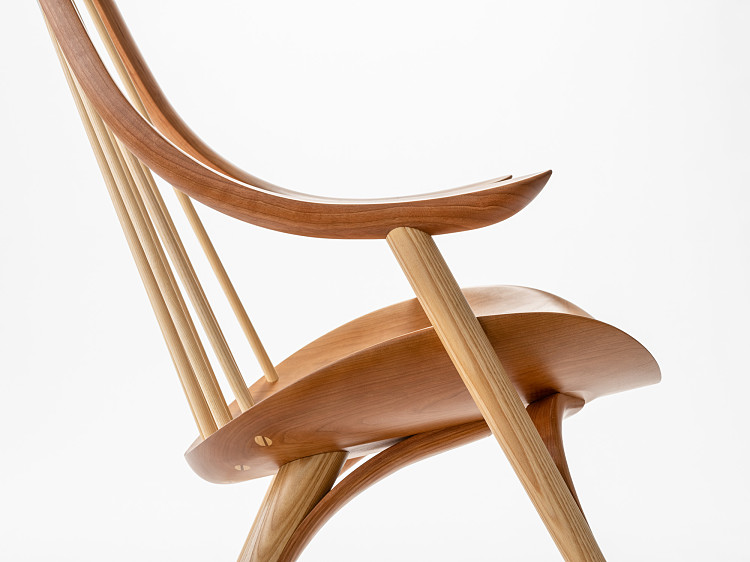 To celebrate 50 years, we have crafted a new, limited-edition design that celebrates our craft and honors our roots. 1972 gleans the nuanced traits of the classic Moser aesthetic developed by Tom with the sculptural influences of David Moser, creating an entirely new form that feels familiar yet is a catalyst for a new era of design
Read More