Dovetails: A Conversation with Tim Sirois
Great furniture requires excellence on many fronts.  The trees must be thoughtfully grown and managed. The wood must be exquisite and perfectly cut. The craftsmanship must be informed and precise. The design must be pleasing to the eye and appealing to customers.  But there is more: the greatest furniture also utilizes exquisite joinery — for the form, for the beauty, and for the superior function and strength of each piece. Not surprisingly, Thos. Moser employs a number of master craftsmen and women who possess a deep appreciation and understanding of the importance of traditional joinery.
Tim Sirois, who has been with Thos. Moser for eight years is a certified journeyman with the State of Maine and a Thos. Moser apprentice, which means he has been in the process of learning all aspects of the furniture business.  Currently, Tim works in case assembly, which involves building and assembling exquisite books cases and cabinets such as the Dr. White's Chest and Vita Blanket Box.   Tim's passion for Thos. Moser has grown in his years with the company. He has worked in almost every aspect of the business, but he has a particular devotion to dovetails. "Not only is dovetail joinery beautiful, but it's functional," he says. "The dovetail is for strength and for beauty."
Hand Craft + Precision Machining
Dovetails are core to Thos. Moser brand.  Every drawer we make is made with dovetail joinery, and many are a combination of two wood species – a dark wood such as walnut on the exterior of the drawer and a light wood such as ash for the interior – which creates a beautiful contrast within the dovetail joinery, further enhancing its beauty. Where mass-produced furniture may utilize glues, screws, plastic or "faux dovetails" to assemble their drawers, Thos. Moser has and will always stay true to the traditional furniture maker's dovetail.  "You can't really improve on perfection," says Tim.
A dovetail is a joinery technique often used in cabinetmaking to join two pieces of wood at a 90-degree angle. They are often an implication of quality because of their complexity to execute and their enduring strength and durability. A dovetail joint is created by cutting a series of pins and tails out of two boards of wood and interlocking them to create a snug bond. Dovetails can be cut by hand or machined for better accuracy.
Historically, the dovetail joint evolved from ancient Egypt and early Chinese dynasties, where craftsmen and builders carved them by hand. "That's how Thomas Moser first started doing dovetails," Tim explains. "But as business picked up, we needed to adapt and evolve."  Today, very high-tech precise machines make the process more precise, faster, and just as beautiful."
Dovetail Examples from Our Shop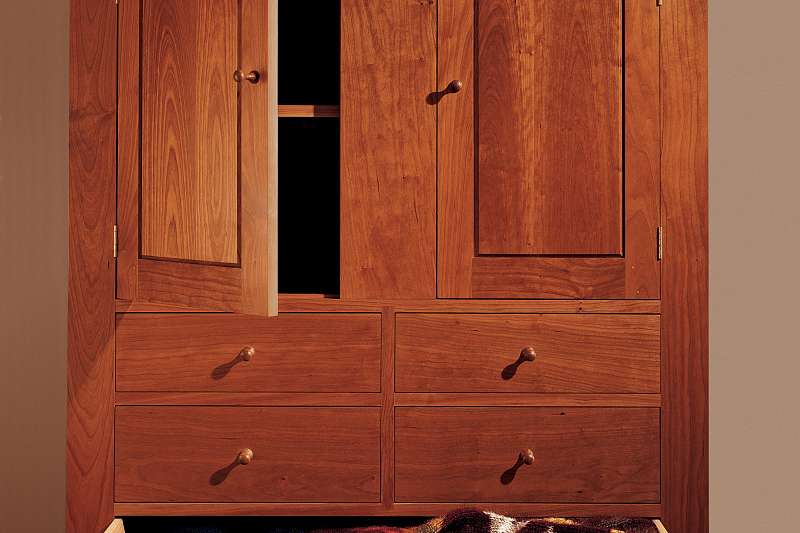 A combination of dovetail, miter, rabbet, lap and butt joints – crafted in sustainably harvested Allegheny Plateau cherry or North American walnut – makes Dr. White's Chest the most demanding single piece of cabinetry we offer.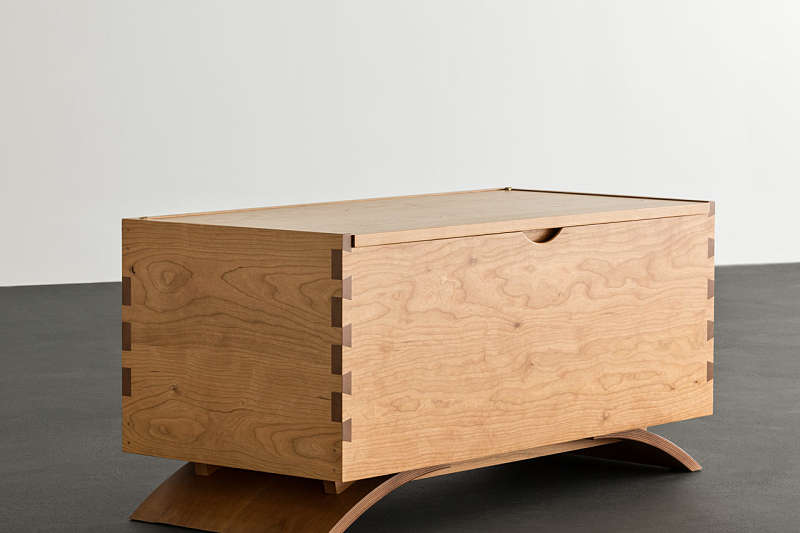 While simple in form, the details of the Vita Blanket Box make all the difference. In crafting the blanket box, the form was enhanced through thoughtful construction and time-tested mitered dovetail-joints that provide uncompromising structural integrity.
The dovetail not only adds to the elegance of Thos. Moser furniture, but it adds strength, resiliency and flexibility. Dovetail joints require no hardware to hold the wood in place.  The joinery allows the wood to expand and contract with the seasons, which reduces stress on the furniture and prevents the cracking and breaking that's often seen with glued or screwed joinery.
Many other furniture manufacturers will use alternative methods, such as gluing two flat pieces of wood together for assembly of a drawer or use screws to join pieces together. Over time, drawers created with screws or clue will loosen with movement and changing environmental conditions. Dovetails allow the wood to work for you, using the strength of the wood to hold the furniture together. They look gorgeous and will last.