The Essence of Board Matching
If you ask any craftsperson, they'll tell you that the beauty of our products begins in the rough mill. It is here that the subtle art of selecting rough-hewn slabs of wood to match woodgrain and color makes the difference between a nice piece of furniture and an exquisite piece of furniture. Once selected, these boards are trimmed down, chiseled out, sanded, and expertly molded by our craftsmen into the beautiful forms that grace your homes, offices, and public spaces.
With six years of experience under his belt, craftsman Jim Wisser primarily works in our rough mill and has a keen eye for detail. "I had no woodworking experience at all before coming here, but I've learned a lot in a short time," says Wisser.  
Jim starts his day by selecting a job ticket that specifies which product is next to be built. He then moves to the stacks of boards that have the correct thickness and begins sorting through the pile in search of boards with similar grain patterns and color. However, there are times that this process takes up much of the craftsmen's time. "Sometimes just to get a tabletop, we can go through 2-3 different piles of wood," says Wisser.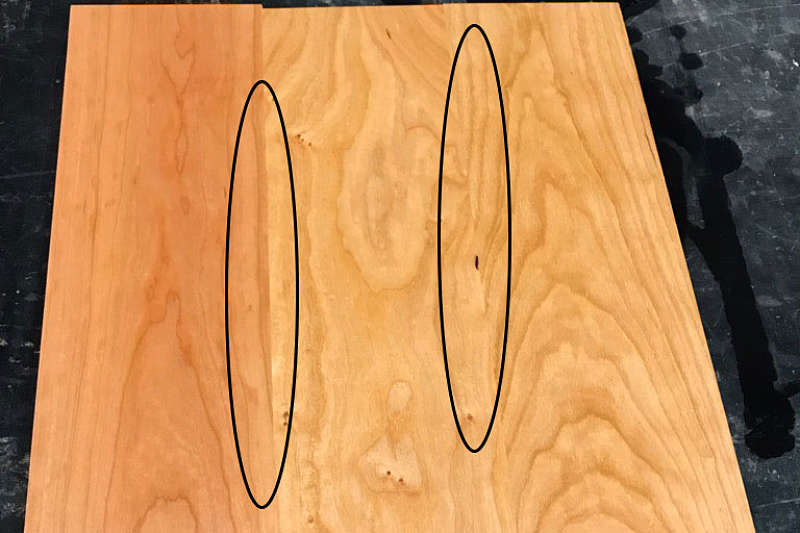 The far-left board showcases a deeper red hue of cherry, while the center board is a lighter tannish hue of cherry.  With their extreme color variation is an example of a poor match based on color.
The wood grain on the boards to the far right shows cathedrals in the wood grain creating a suitable example of a good board match based on color and the openness of the grain.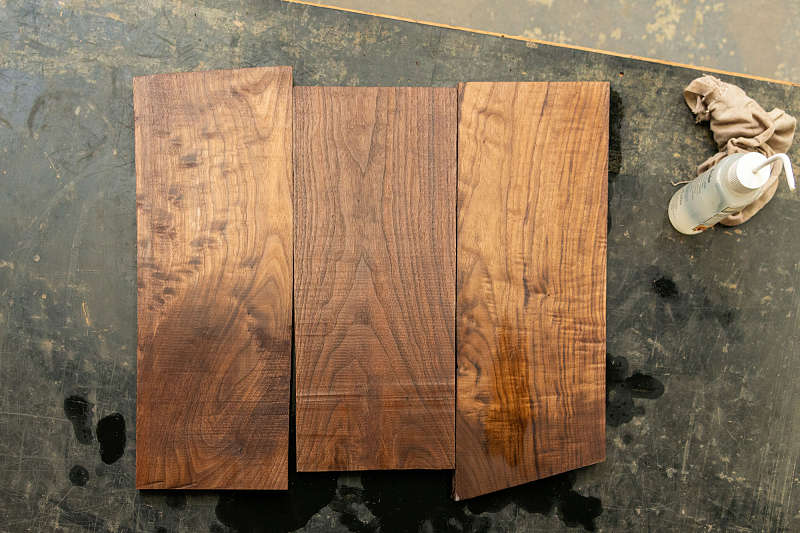 Walnut poses a special challenge due to its vast spectrum of color variation. These freshly oiled boards showcase walnut with rich chocolate tones that walnut is so well known for and it's lighter amber tones.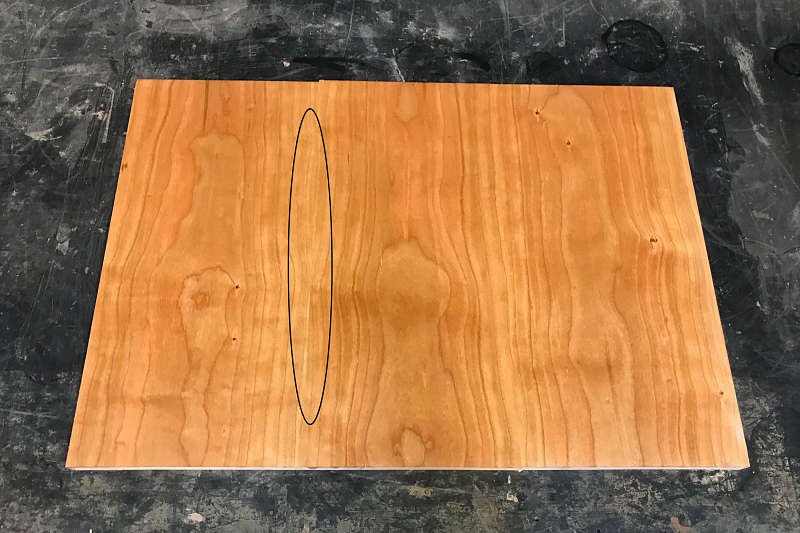 This is an example of an excellent board match. The color is consistent throughout and the grain appears seamless, creating the illusion of one solid board when in actuality it is three perfectly matched boards.
Left: Oval indicates where the glue line is.
Once Wisser has selected enough boards for the product, he cuts them to the specified sizes and glues them into a panel if necessary. All panels need to dry for a minimum of two hours before they can be used in the building of the product. When this is complete, he places all parts on a cart and sets it aside for another craftsman to take and build the product. 
Why is it important?
When a piece has good grain matching, it appears to be seamless. That is why our craftsmen in the rough mill carefully select boards for large panels, whether it be a tabletop or the back of a case piece. "We want each piece to be consistent all the way through and that includes wood grain and color. It is very time-consuming to go through various piles of lumber in order to select boards of the same grain pattern and color," Wisser explains.
For example, when working on a job ticket that is going to be a case or a piece with drawers, the craftsmen in the rough mill will begin by selecting boards for the drawer fronts and then build the rest of the case around those drawers. It is challenging to find boards that look exactly alike. 
While board matching has its challenges, Wisser finds his role in the process rewarding. "I may not build it," Wisser says, "but I get to have a significant impact on what the piece will look like by carefully selecting similar boards. When I see the finished product it makes me very proud."