Shopping for furniture has never been easier. Whether you prefer to shop online or in one of our showrooms, we want to make sure you select a piece of furniture that's a perfect fit. To help compile a list of important considerations, we asked our New York and Midwest Territory Manager, Rob Panos, a seasoned interior designer, for his tips in choosing the right furniture for your space.
When I first begin working with a client, I ask for pictures or a floor plan. Taking at least four images with different angles of the room, essentially one from each corner helps give me a good overall perspective and style of the space. If my client has a floor plan, that's wonderful. It offers specific dimensions of the room and shows the exact placement of doors, windows, or other architectural elements that may impact the space planning.
Measurements are vital if you're adding multiple pieces to a bedroom, dining room, or living room. Our website is an excellent tool for our customers as every piece of furniture has a product sheet that gives the full dimensions. With those numbers in hand, it's time to take to the floor.
Solid Floor: If my client has a solid floor like, hardwood, tile, or laminate, I recommend purchasing painters' tape in a different color for each piece they're considering. Use the tape to outline the footprint of the piece on the floor. The inner edge of the tape should be the outermost part of the furniture's footprint- creating some wiggle room and space for movement. Painters tape is a wonderful working palette to jot down notes or thoughts on how a piece may need customization.  
Carpeted Floor: Using cardboard, cut out the footprint of the furniture and lay it on the floor where the furniture will live. Live with the cutouts on the floor for a few days and notice how it creates or inhibits a comfortable flow to the room. How close are the cutouts to existing furniture or architectural elements, like stairs, windows, or doorways? If you keep stepping on or moving the cardboard cutout, chances are you will need a smaller design or to customize the design you love. 
Before you get a call from the delivery company, work with your furniture specialist to ensure that your furniture will fit through the door. While looking through designs, let your salesperson know if the piece needs to be carried up a spiral staircase or if you have a drop ceiling or tight corners, the furniture may need to travel through. While accommodations can be made to ensure the furniture will fit, the last thing you want on delivery day is having to fit your dining table through your 8th story dining room window. Another thing that is helpful to know when my client is placing their order is if they will be traveling during the transit time of their furniture. With this information, I can schedule delivery time accordingly to accommodate my client's plans.
Frequently when measuring a room, we think wall to wall. Rooms are always smaller than they appear because of these details. Baseboards are one thing that often gets overlooked and can be detrimental to the overall fit, as the furniture will not be resting flush against the wall but rather against the baseboard. The same can happen with taller case pieces and crown molding or a media case against a pony or half wall. Be sure that the height of the case piece will have enough space above it to feel natural and not cramped. Give yourself an extra quarter to half-inch of wiggle room to accommodate baseboards, molding, light switches, and outlets when in doubt.
If you live in an urban area, work with your building supervisor to coordinate your delivery- plan for everything, parking, extra padding within the elevator, have a building supervisor there to help guide the delivery. In older buildings and the rare case of a walk-up, double and triple check the size of the entrance and stairwell as these tend to be smaller in older buildings. Measure the height in three different places- the first step to the ceiling, the top step to the ceiling, and any landings to the ceiling.
On the day of or before delivery, clear a path. Remove extra items, like benches, coat racks, mirrors, shoes, and rugs that may be in the direct path of where your new furniture may need to travel through.
It's easy to fall in love with the look of a piece you think will never fit in your room. Before you dismiss this design, reach out to your salesperson or company to explore the custom capabilities of that piece. When you visit a showroom or engage in an online chat, ask for help selecting designs that match the size you need or what the custom options are on that piece. Large showroom environments or studio photography of the furniture online can create a confusing sense of scale. Get the measurements of every piece you intend to purchase.
The perfect lounge piece, bedroom, or dining set comes in all shapes, sizes, and styles. With several designs in our catalog, there is certainly one that will fit your aesthetic. If you don't know where to start, reach out to a Thos. Moser sales associate and share photographs, dimensions, and any architectural features of concern in your home. This information helps our designers better understand the needs of the space and the furniture. Each piece can be customized, to a certain extent, from wood species, upholstery, height, and length to give you the perfect fit for both you and your home.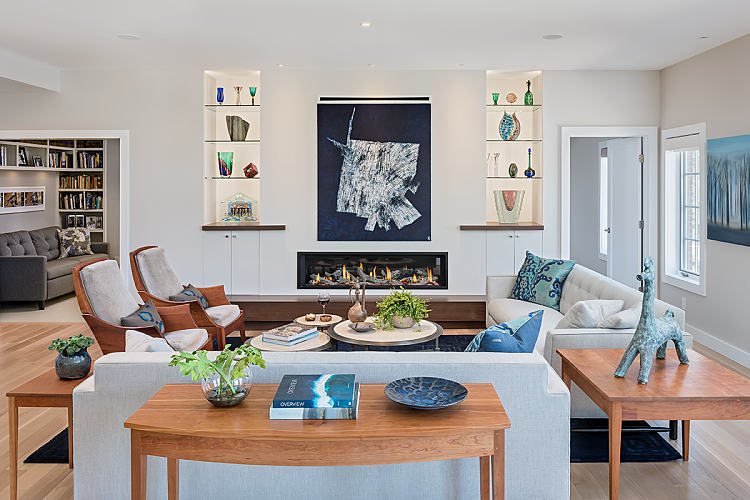 When a couple wanted to downsize they sold everything except their Moser furniture. We sat down with their designer, Marcye Philbrook, and asked her how she artfully designed and integrated elements of their existing Moser pieces to create a contemporary home.
Read More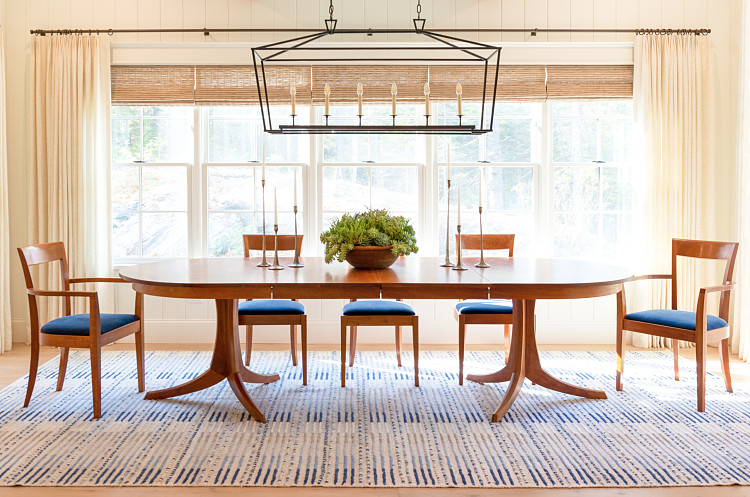 The Ferguson's found their four acres of heaven in Yarmouth, Maine. Resplendent with towering pines and verdant landscapes, they worked with local interior design firm Nicola's Home to create a three-bedroom contemporary coastal farmhouse that offered first-floor living with plenty of room to entertain and spaces that captured both their personalities.   
Read More