Auburn Chair
Photos shown are sample photos for this product. Actual product images available upon request
The Auburn Chair is named after Auburn, Maine, the longtime location of the Thos. Moser workshop. Apart from its simple, striking profile, the Auburn Chair's most prominent feature is its curved hardwood back – an anticlastic curve – carved from a single piece of hand-finished wood and supports the lumbar in two directions at once.
Made to Order
Our expert craftspeople in Maine are waiting to create a piece just for you.
Our furniture is made to order. Due to high demand, current build times are exceeding 25 weeks.
, or for exact dates. A 50% deposit is required to initiate your online order. The balance will be due prior to shipment.
Would you like to send this to an address outside the continental US? Request a delivery estimate
It's All In the Details
We are committed to building furniture of truly lasting value. When you purchase a Thos. Moser piece, we enter into a lifetime of friendship and service. As the original owner of a piece of Thos. Moser, we will guarantee our workmanship and wood materials for your lifetime.
264,000
Board Feet
The approximate amount of cherry we use for building each year.
1972
The year Thos. Moser was founded in New Gloucester, Maine.
856
Years
Our craftsmen's collective woodworking experience.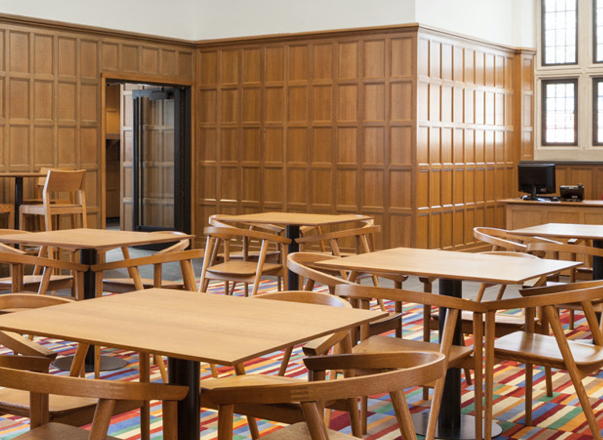 St. Paul's School
Are You Looking for Something More Unique?
Thos. Moser designs and makes furniture for hospitality, corporate and educational environments with a dedication to skill and precision in craft and to form and function in design.