In January of 2019, we pulled a piece of rough-hewn Allegheny black cherry from a stack in the rough mill that would be transformed into the first NYPL Branch Chair available to our residential customers. This most elemental beginning celebrates several years of culminating efforts between our designers' creativity, our craftspeople's skill, and Moser's design aesthetic. When the NYPL called for submissions, they were looking to introduce iconic elements into the newly renovated branches — including the "branch chair." We were awarded the honor of creating this lasting icon to serve this great public institution for decades to come. 
A year later, customer David M. placed an order for an NYPL Branch chair in walnut. When he placed the order, he envisioned himself sitting by the window in his new chair, taking in the brilliant sunshine and watching the park's bustling activity outside his Boston home. In April 2020, Thos. Moser temporarily halted a large part of production to keep employees and their families safe—causing delays to some orders, including David's chair. Upon receiving the shutdown message, David was given the opportunity to borrow an NYPL chair in cherry while waiting for his. Excited at the prospect, he accepted the generous offer.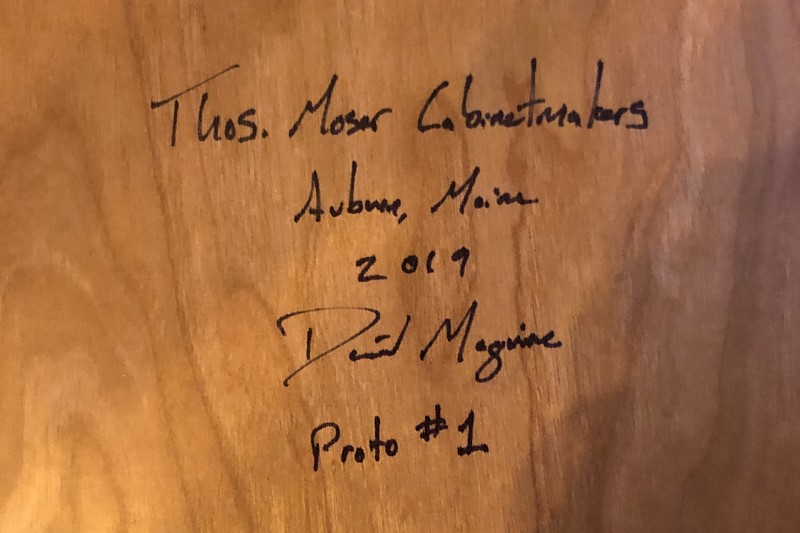 After receiving the chair, David fell in love with the wood's unique grain pattern. When David's walnut chair was completed, he had already fallen in love with the cherry version he had on loan and decided to purchase both. It was then, upon closer inspection, David discovered that the chair was marked with something unique— it was signed Proto #1. That rare signature prompted David to reach out to our customer care team. Through his correspondence with our sales team and founder, Tom Moser, David learned his cherry NYPL chair's more in-depth story. 
In 2018, Thos. Moser was selected to design a chair that would become an enduring icon of the library's newly renovated Mid- Manhattan branch and its 92 branches within the NYPL system. This chair would become a symbol of the library, its mission, and its vision for the future. The last chair commissioned by the NYPL was the Rose Reading Room chair in 1911, which is still in use today. Through several rounds of feedback from the architect and library, the first official prototype of the NYPL Branch Chair was constructed of ash and painted black. 
After the library approved the design, Thos. Moser began a production prototype for our residential line— and David would receive the first. Moser would use David's chair to announce this iconic design in all of the print collateral. Now the fortunate owner of two NYPL chairs, each bearing their own unique story, David hopes each will be passed down for generations to come. He uses the chairs daily, whether in the morning while working from home or to enjoy the park's view from his window. 
Every piece of furniture we make has a story, and we very humbly accept that we are just the very beginning of that story. But, when a piece of furniture is the first of its kind, we as craftspeople often wonder what the continuation of its story will be. Who will buy it, where it will end up, and what will its new home look like? Thankfully for us, our customers frequently share this same inquisitiveness leading to relationships that last a lifetime.