The Birth of an Icon
Introducing the NYPL Branch Chair
In collaboration with The New York Public Library (NYPL), Thos. Moser has designed a chair that is more than just a piece of furniture – it's a symbol of the Library, its mission and its vision for the future. The last iconic chair commissioned by the NYPL was for the reading rooms in the landmark 42nd Street Library in 1911. The NYPL Branch Chair, by Thos. Moser, will serve the great public institution and the communities it serves for decades to come. Here is the story of how the NYPL chair came to be.
Thos. Moser's interest in the NYPL began many years ago when we first purchased a replica of the iconic 1911 Rose Reading Room chair for the museum at our workshop in Auburn. Fast forward to 2018 when the library announced its intention to commission new chairs for the NYPL branch libraries.
Moser developed its initial proposal in June and presented its ideas to the NYPL selection committee. A series of meetings were held with the proposing organizations in a highly collaborative process with library personnel. The famous Rose Reading Room chair was to be kept in mind, but not to be a strong influence. The chair was to be of rugged design, no upholstery, easy to clean, large enough for patrons but easy to move and comfortable over hours of use. In a changeup of traditional roles, each of the involved architects presented the vision they had for the branch libraries they were working on.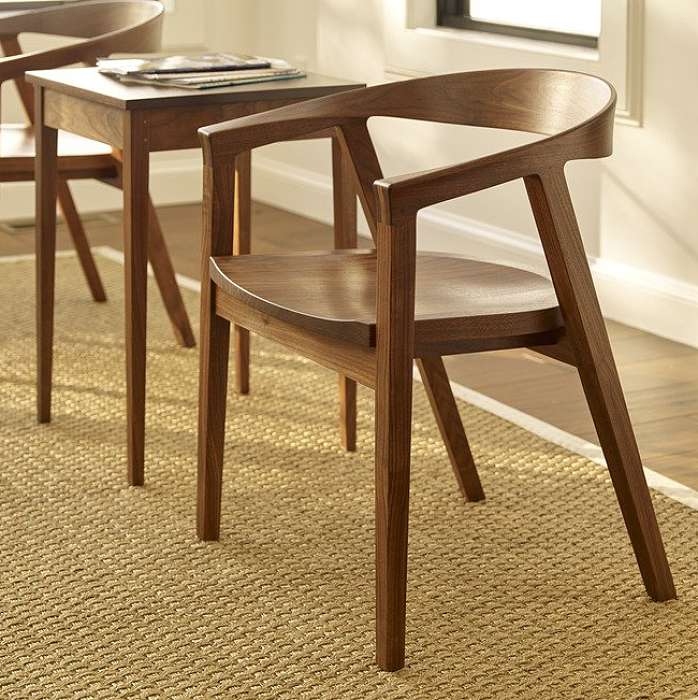 To solicit feedback, Thos. Moser assembled sketches of many different chair forms into a presentation to gauge reaction to the 'type' of chair the committee was drawn to. The objective was to distill down literally hundreds of different design options, pointing us in a more defined direction.  We were able to narrow it down to four concepts, with a variant of our Moser Cumberland Chair being the lead candidate. After another round of feedback, a design approach was settled and we started working in wood to get to a prototype for evaluating comfort and scale.
The first prototype was painted to give it a consistent color and sheen for seeing the form, and to eliminate reactions to wood species and grain. This prototype was taken to NY and presented the Library. We received generally good feedback.  Some changes were requested, such as keeping the visible joinery that was shown in an earlier sketch and softening some arm details. Another prototype was built with these details and a similar evaluation was made. Sit testing was done to assess comfort. We then built 5 sample chairs and sent one to the library for final approval. With official approval in hand, Thos. Moser is now in production of the first order for October installation. We are proud to make this new icon available to other customers.