A Collector's Approach to Downsizing
Inside a beautiful 17th floor apartment located with breathtaking views of the Schuylkill River and the City of Philadelphia, is a home rich in character and filled with artisanal goods reflecting the owner's extensive travels and appreciation for American art and handcrafted furniture. To create this personal, eclectic, warm and worldly space, the homeowner worked with Philadelphia-based Marguerite Rodgers Interiors.
"It's a very personal residence, and unlike a lot of today's design which can be sterile and neutral, this home has a lot of personality. We kept the walls white to allow the collection to shine but added pops of red and color through rugs and textiles," said Meg Rodgers, principal of Marguerite Rodgers Interiors and lead designer on the project.
The homeowner, a photographer and artist in her own right, was downsizing from a large suburban home (around 12,000 square feet) and moving into the 6,000 square foot Center City Condominium.
Most everything in the new home, except for the upholstered goods, is handmade or artisan made. A majority of the pieces were collected during the homeowner's extensive travels throughout India, Africa and Asia. The homeowner and her late husband were also patrons of American artists and amassed an impressive collection from a range of local furniture designers and makers, including Thos. Moser, Ray Kelso, Owen Edwards, Jack Larimore, John Struble, Bob Worth, Drew Lynford and Steve O'Donnell.
Meg and her team were tasked with evaluating the homeowner's entire collection and determining what would be integrated into the new residence. "Knowing that many of her larger scale items weren't going to fit, we created precise furniture and art placement plans – down to her collection of books – to show her where and how the pieces she loved would fit and work in the new space."
Meg and her team filled the new home with 170 furniture pieces, 134 from the client's existing collection. "During the editing process, we learned that the homeowner had a real appreciation for Thos. Moser furniture, something I understood being originally from Maine and having started my career as a woodworker," notes Meg. "She owned Thos. Moser pieces that were very simple, very clean, and very straight lined. She believed that anything that's made of beautiful wood is an art piece in itself."
Thos. Moser furniture is now found throughout the new space – in the home office, the guest bedroom, the master bedroom, sitting room, dressing area, kitchen, and dining room – adding warmth to the entire home.
When integrating the homeowner's existing Thos. Moser pieces, the interior design team got creative. In several areas, they designed and built custom cabinetry and slid the Moser pieces in. "This approach allowed us to use every single piece from her collection, highlight them in a unique way, increase storage and in some cases give new function to the older pieces and ultimately create a beautiful cohesive space," notes Meg.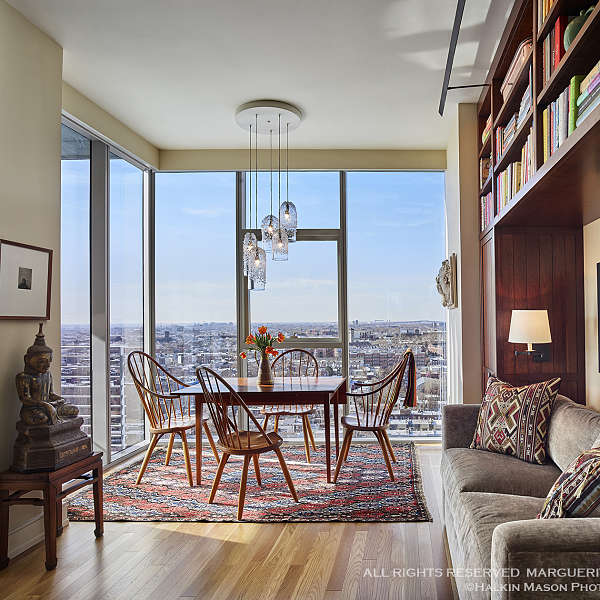 Dining Room
The dining room features a custom Thos. Moser drop-leaf table surrounded by two Continuous Arm Chairs and two Bowback chairs.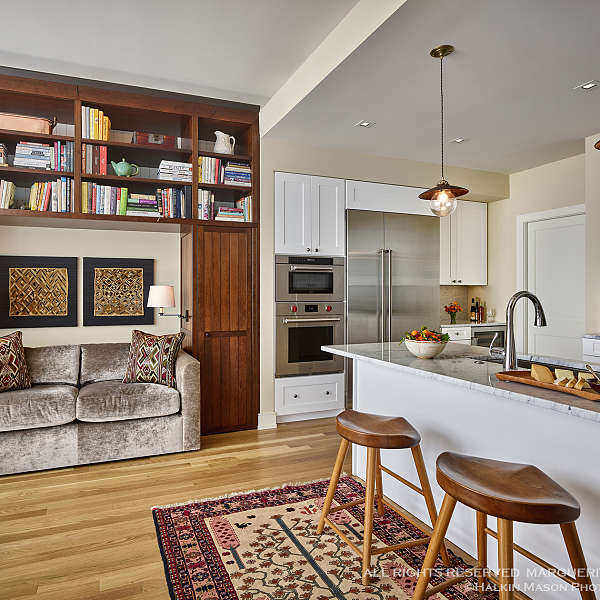 Kitchen
Two Thos. Moser High Stools fit snuggly under the island. "We wanted everything in the kitchen to blend well with the cherry furniture, so we designed the cabinetry in mahogany. It gave the room a rich range of wood tone," commented Meg.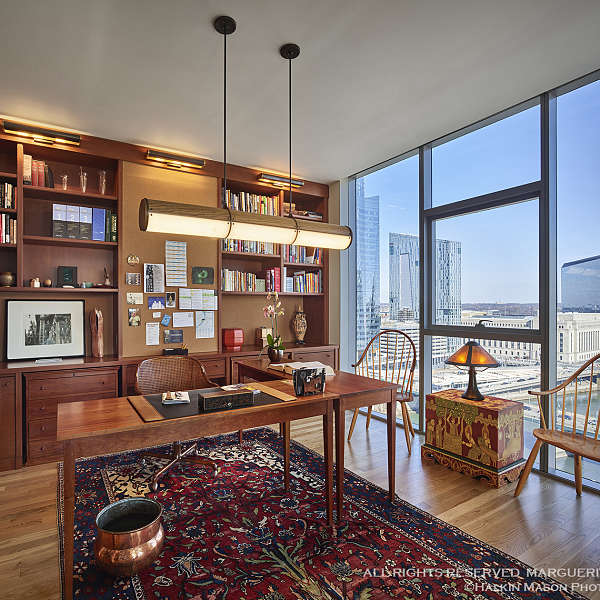 Home Office
Two more Continuous Arm Chairs grace the home office. "The Thos. Moser chairs are almost an art piece because they are so classic, and they work well in very modern interiors," said Meg.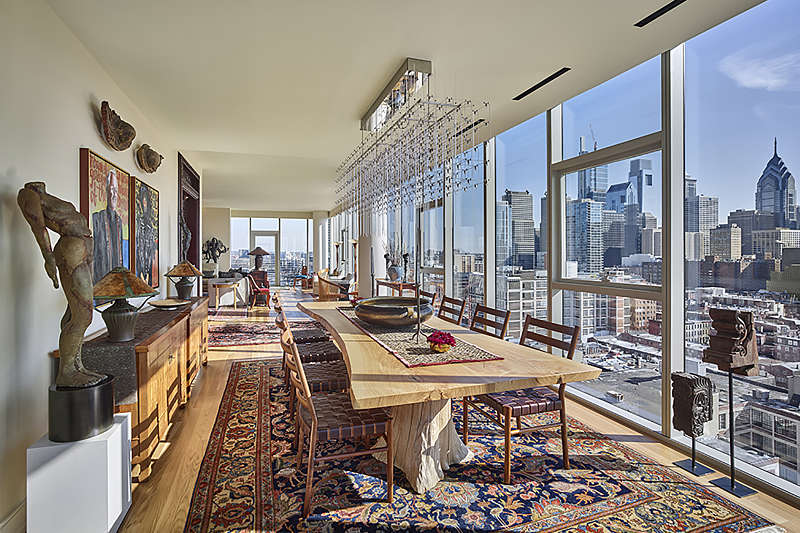 When it came to the dining room, a large live edge custom table was selected. The homeowner had fallen in love with the table and didn't want it surrounded with upholstered chairs. "We knew it called for something that was handcrafted and wouldn't compete," notes Meg. "On one of our shopping trips, the homeowner kept gravitating toward woven leather chairs. We knew Thos. Moser made a beautiful woven chair – the Hancock Chair – and because of her affinity for the brand we suggested it. We decided on Cherrywood with chestnut leather strapping. The combination is stunning."
To complete her Thos. Moser collection, an Ellipse Platform Bed was selected for the Guest Bedroom. "She didn't want an upholstered headboard and because several other Moser pieces – a bureau and night table tucked up against a custom shelf – were already planned for that room, it simply made sense to add a Moser bed," said Meg. With the addition of the bed and dining room chairs, the homeowner's collection of Thos. Moser furniture currently stands at 30.
Outside of the Moser collection, the apartment features 81 carefully curated pieces of artwork and more than 130 accessories. The most notable pieces of artwork are from Philadelphia sculptor Arlene Love and painter Lee Lippman. Decorative carved doors from India were purchased and customized with antique hardware to stand guard at the hallway entrance. The sink pedestal in the powder room is a salad bowl from the homeowner's collection – once again showing the interior design team's ability to use beloved items in unique ways. The canoe, which sits in front of the fireplace in the living room arrived unexpectedly in the crate containing the doors from India. The team turned it into a bench and upholstered it in mud cloth from the homeowner's vast textile collection. Pillows throughout the apartment are also covered in the homeowner's textiles. A cloud light fixture by famed Remo Saraceni, which held court in the homeowner's previous stairwell, now rests comfortably over the bed in the master bedroom.
The final space is full of incredible, special memories from around the world. "It beautifully shows that you can combine things that people wouldn't normally mix together to create a truly special home – a home built around meaning," concluded Meg.