Choosing a bed at thos. moser
Who are we without a good night's rest? Sleep is our body's natural defragmentation process. Overnight, we allow our bodies to restore, recharge, file away, and re-set every piece of information we have received throughout the day to meet the morning rested and ready to accomplish whatever is thrown our way. Our bedroom is a sanctuary where we can unwind, and our bed is the throne upon which we snuggle in and tell bedtime stories, rest when we are sick, or wish we could stay buried beneath the covers a few moments longer when the alarm sounds, and a new day begins.
building the bed of your dreams
At Thos. Moser- we build our beds first and foremost to be long-lasting, so you don't have to lose sleep over it. Each bed is a custom-built piece. We select matching grain for the headboard, seamless joinery, and top-of-the-line hardware, making our beds easy to move, assemble, and disassemble when necessary.
Hardware, and Wood Species
In addition to crafting heirloom-quality beds, we also build our beds to fit your unique arrangements. Whether you opt for a traditional box spring and mattress arrangement or you prefer a platform-style setup, our beds are designed to be flexible.
When selecting the best bed for long-lasting comfort and style, consider these items: mattress height, height from the floor, nightstands and accompanying side tables, hardware, wood species, and finish.
know your mattress height
If you have a traditional box spring and mattress combination,
measure both the box spring and mattress for the correct height.
Do you intend to keep your current mattress and box spring, or will you be switching to a lower profile box spring or just a mattress?  After knowing where you will put your gorgeous new bed, this is the most important thing to understand.  If you intend to keep your current mattress and box spring set up, measure both box spring and mattress heights together. This will give you the entire height and let you know how high your mattress will come upon the headboard. or will you be switching to a lower profile box spring or just a mattress?
Mattress height can determine the overall look of your bed. We design each bed with approximate mattress measurements in mind. However, a box spring and mattress combinations may require custom modifications and may change the aesthetic of the bed you choose.
Perched up high or down low?
Accommodating design for varying heights in traditional and platform beds.
Consider this, a standard dining room table stands at 30″, and an accompanying chair is generally 18″ from floor to seat.  Do you want a bed that you have to climb up into or one that you can easily fall into?
Some adjustments that can be made to the design of the bed include lowering or raising the side rails to reach your maximum height (this is why it is essential to know your mattress height).  Other modifications can be made to accommodate your existing mattress and box spring, like raising or lowering the height of the headboard, as some mattresses may be flush to the footboard or potentially cover three-quarters of the headboard.
Side tables and nightstands
Generally, the tabletop should be approx. 2″ above or below the top of the mattress.
Each of our designs comes with side tables that help complete your bedroom set. For those beds that do not have a side table in their collection, our Minimus Tables and Companion Tables are a perfect fit. When you decide on the table that will complete your look, you must then consider the height. How high or low do you want to reach from your bed? Generally, about 2″ above or below the mattress is where you want the top of the table to be. If you're going to work with your existing nightstands, be sure to measure your mattress to decide on the height of your bed legs so they will fall within that 2″ window.
Hardware and wood species
All of the beds in the Thos. Moser catalog can be built in a variety of sustainably harvested wood species but are traditionally built in either Allegheny Cherry or Missouri Walnut. Once your bed has been assembled and built to your exact specifications, it will be sent to our finishing department. Here we apply our standard oil and wax finish to help protect and bring out the inherent beauty of the wood grain. Upon request, your bed can be finished in oil and lacquer. Each bed also comes with its own standard hardware that is perfectly matched to enhance the design and style of the bed, and in some instances, may be interchangeable and customized. Our bolt covers range from silver nickel, brass, matching tear-drop wood, and hammered copper.
Platform design
Our platform beds are traditionally designed to accommodate a 10″ mattress.
These lower-profile bed designs offer lower clearance below the bed and are built with a mattress in mind. With the lack of a box spring, the bed is designed with I-beam baltic birch panels to support the mattress. Beds like our Edo and Vita are designed as floating platforms. Meaning, the bed rests upon a central support system underneath the bed, creating the illusion that the bed is floating instead of being supported by four sturdy legs. Other platform beds in the Moser catalog that blur these lines are our Forside, Ellipse, and Studio.
Traditional design
These beds are designed to accommodate 16″ – 18″ mattress and box spring combinations
but these designs can be customized into a platform design.
Many traditional bed designs appear to be higher off the floor (they owe this added height to the addition of the box spring); they generally have the same low clearance as many of our platform beds. We build our traditional-style beds to house the box spring on wooden slats that rest upon a low-sitting lip rail allowing the box spring to nestle lower in the standard 5 1/2 inch rails. When choosing a traditional style bed, be sure to measure the entire height of your box spring and mattress together. Beds like our American Bungalow, New Century China, Sleigh Bed, and Pencil Post bed are designed with a minimalist eye. Still, they will rekindle the warmest memories of climbing up into our parent's bed to hear a bedtime story.
Remember these few tips, whether you choose to go with a traditional bed that uses a box spring and mattress combination or the crisp, clean lines of our platform beds.
Always measure the height of your mattress or the total height of your mattress and box spring to know how high off the floor you will be. By getting this number, you will also know the height of your accompanying nightstands. While our designs are created with cherry or walnut in mind, we are always willing to work with other sustainably harvested hardwoods. Knowing your sleep style, how to customize it, and how to get the bed of your dreams will have you resting easily in no time.
You may also enjoy reading…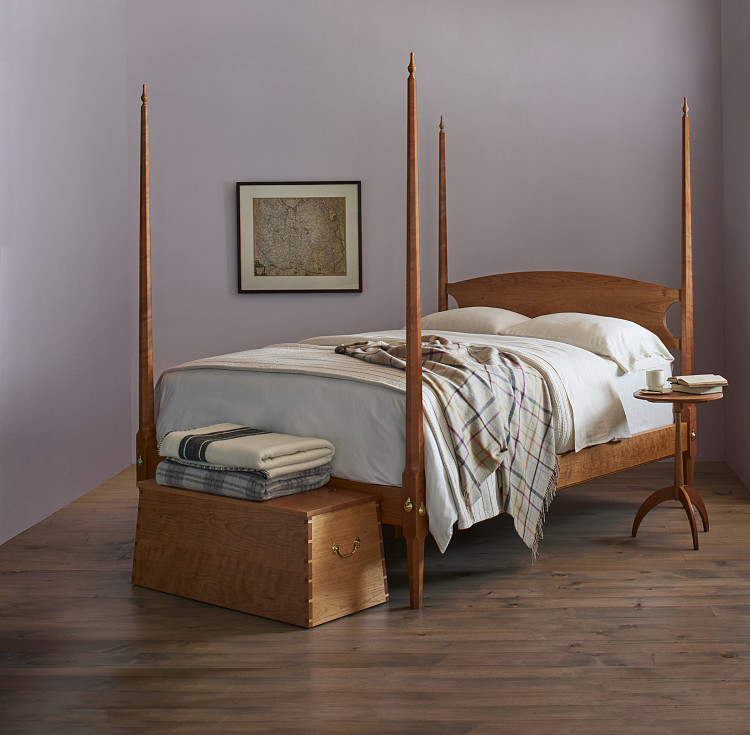 It's hard to imagine our Pencil Post bed folding down the size of a large suitcase. But the solid wood design was inspired by the early modular English Field Bed, built to support a canvas mattress and canopy of mesh netting to keep out mosquitos. However, if we dig even further into antiquity, we find the roots of our four-poster bed go even deeper.
Read More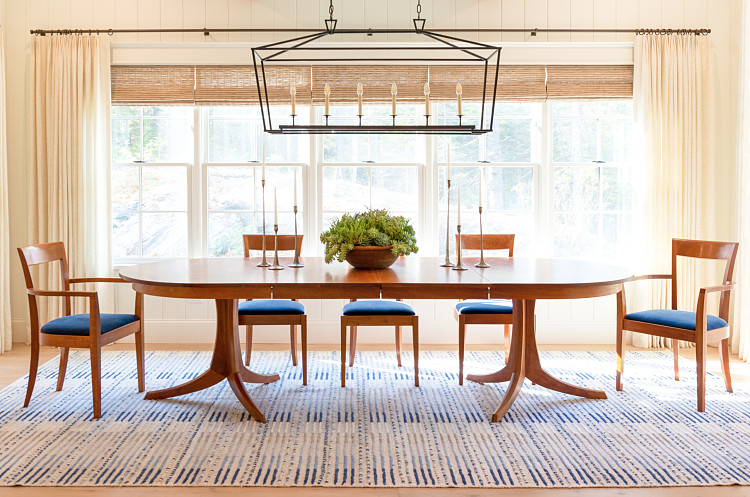 The Ferguson's found their four acres of heaven in Yarmouth, Maine. Resplendent with towering pines and verdant landscapes, they worked with local interior design firm Nicola's Home to create a three-bedroom contemporary coastal farmhouse that offered first-floor living with plenty of room to entertain and spaces that captured both their personalities.   
Read More