resimercial Design: Creating a contemporary workspace
The modern workforce seeks comfortable, inspiring spaces that foster a relaxed atmosphere and put people at ease-opening the door for creativity to flourish. Integrating elements of the home and residential design help employees, clients, and visitors feel more relaxed and less like they are in a sterile office space filled with stainless steel, chunky mass-produced office furniture that is made for longevity, not for style. The theory behind resimercial; create a comfortable work environment that allows workers to relax and collaborate more naturally. Resimercial design blurs the lines of work and home by incorporating flexible spaces that double as a meeting space, a comfortable place for a quiet brainstorm or coffee break with colleagues that evoke a sense of comfort and shape how we view the modern workplace. How do we work? With the traditional 9 – 5 workdays being pushed to the wayside, the workforce now telecommutes far more frequently. As this trend continues, we are seeing a shift in how we design office space to inspire creativity and accomplish goals. This shift is a driving force for companies re-designing their offices, seeking to attract young professionals, and re-inspiring tenured employees.
Technology has dramatically impacted this shift. We are so entrenched in a technology-forward business model and lifestyle that we seek to find a balance between an "always-on" mentality and a more relaxed, home-like work environment. Some of your best ideas probably came to you while you were at home, sitting on the sofa, and poof- a solution came to you. Did this idea come to you while you were sitting in your cubicle with an egregious fluorescent light buzzing overhead? Probably not. It came to you in the comfort of your home, where you were surrounded by soft, comfortable textures, welcoming wood, warm lighting, and looking outside your window while sipping on a warm beverage. Ok, maybe you didn't check off every box on that list, but we'll venture a guess that many of these elements were at play.
Reflect on the last time you visited your favorite coffee shop. It's a welcoming space with overstuffed chairs, interesting tables, and colorful art; it's a place where friends meet outside of the office and before they get home. For Starbucks, it's known as the "third place," and they have capitalized on this. You don't mind paying $7 for your coffee because of the experience you're having along with that quad, half-calf grande, 2 pump vanilla, soy, double-cupped cappuccino. Yeah, we've been there, too. You've created a customized experience that puts you in your comfort zone and gets those creative juices flowing. Use these experiences as your starting point for redesigning your flexible meeting and office spaces. Create an environment that gives you the same sense of accomplishment and ties in durable elements of hospitality design with residential style.
Showcase elements of your company's culture. If your company were a person, what would they like, what are their hobbies, what inspires them? The space should be a direct reflection of that distinct personality. Showcase those elements of your brand. Is your company big and bold, are they refined and sleek, or is your brand more warm and fuzzy? Be aware that different spaces may need to reflect different moods and purposes. Tie in casual, collaborative gathering places, quiet workspaces, and focused meeting areas for more intensive conversations. Utilizing well-thought-out pieces and design help maintain a light-hearted feel to the workplace while retaining the formality and professionalism of traditional work environments.
So, you want to create a more resimercial space but where do you go to find inspiration?
Look through your favorite magazines, Pinterest boards, and blogs, take a walk outside, and even look at the furnishings in your own home. What elements make you feel the most relaxed, inspire you, and invite you to sit and be productive? Well-executed resimercial design can be achieved by carefully customizing the needs of a specific space, client, and culture of the business. Hone in on products and materials that are best suited for your space and needs. How can you make a desk feel more inviting? The warmth of rich walnut adorned with an inlay of leather can help create a softer yet polished professional look. Round out the space with an accent table, lounge chair, or bookcase to hold pieces of art, elements of nature, or books that inspire you. Work with a designer and furniture maker to help create custom pieces that work with your space and fit your style. Any well-established furniture company specializing in residential furniture can adapt a standard design to create a custom piece that will hold up to the everyday demands of a professional work environment.
One of the great things we do at Thos. Moser Contract, is we work with each client individually to bring their visions to life. Our recent Daniela Table was a take on our trestle tables, with modifications to the base and added hardware to the underside for a customized flip-top table that allowed for easy storage. No project is too great or too small. We have designed chairs for Pope's and President's, libraries, and concert halls. Each space calls for a specific design, style, and feel. By taking a beautifully designed piece of residential furniture and blending in new materials, incorporating outlets and USB ports to the tops of tables for laptops and phones, adding hardware for stability and storage, and utilizing durable textiles, a home writing desk, chair, or sofa quickly become a standing laptop desk, a meeting room lounge, or an inviting and comfortable space for a quick team meeting.
An office, meeting room, and break area should be a place where people feel comfortable. Visitors should feel welcomed and relaxed while getting to know more about your company through the story you're telling in your reception area. Comfortable and inviting break areas should encourage casual conversations that allow your team to freely express their ideas and become more connected and invested in one another. Create a space that invites you to take a break from looking at the screen of your computer or phone, where you can foster a stronger, more cohesive work community.
We spend around 90,000 hours of our life working! That's 1/3 of our lifetime. Why not make the space you devote this much time to as inviting and inspiring as possible?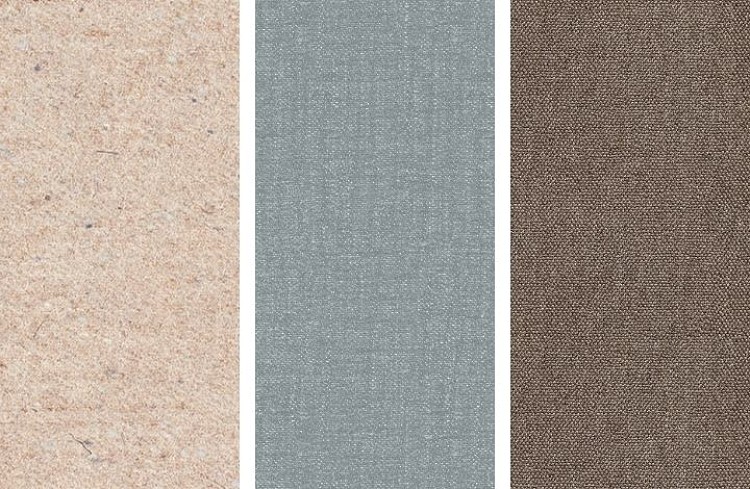 Upholstery makes a piece of solid hardwood furniture cozy, elegant, playful, or sophisticated. Here are three upholstery options that pass the test of durability, feel, and color selection with our furniture specialists time and time again.
Read More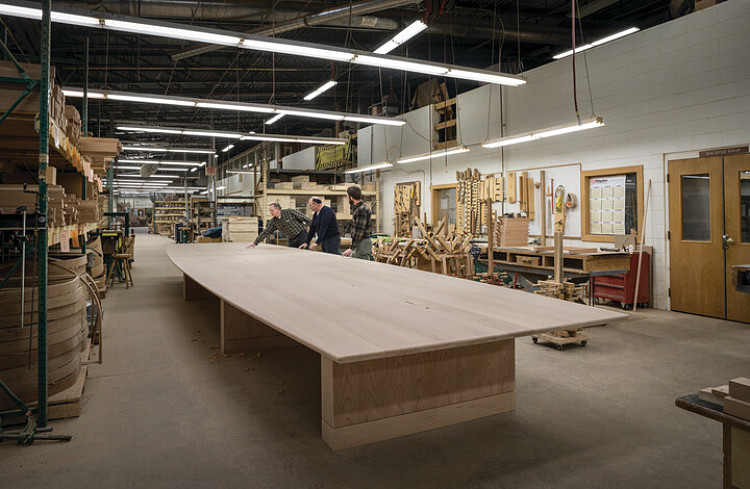 The most significant projects are born through collaboration and a willingness to push the limits. This is how we have crafted tables that span more than thirty-six feet long. Read how we have blended the art of handcrafted furniture with modern technology to create these one-of-a-kind tables.
Read More