Fahmida Sofa – Two Place
$4,995.00 - $6,000.00
The Fahmida Sofa – Two Place celebrates contemporary design, the natural beauty of wood, and traditional joinery techniques that are a hallmark of all Thos. Moser furniture. The sofa was adapted from the Fahmida chair, designed by Fahmida Lam in collaboration between Dwell, City Modern New York, and Thos. Moser.
Product Specifications
SKU: FLC2

32"H x 48"W x 32"D

Designer: Fahmida Lam

Wood: Fahmida Lam, Cherry, Walnut, White Oak
Made to Order
Our expert craftsman here in Maine are waiting to create a piece just for you.
Our furniture is made to order. Due to high demand, lead times may vary. A 50% deposit is required to initiate your online order. The balance will be due prior to shipment.
Would you like to send this to an address outside the continental US? Request a delivery estimate
strength and beauty.
The Fahmida Sofa – Two Place is influenced by the Mid-Century Modern style, specifically Danish Modern. Although inspired by the furniture born of the style, this piece – like any Thos. Moser piece or collection – has its own perspective and is a unique interpretation of its historical antecedents. Leveraging the strength and beauty of hand-finished American hardwoods, the sofa cuts a fresh, airy profile that complements any thoughtful and clean aesthetic.
It's All In the Details
We are committed to building furniture of truly lasting value. When you purchase a Thos. Moser piece, we enter into a lifetime of friendship and service. As the original owner of a piece of Thos. Moser, we will guarantee our workmanship and wood materials for your lifetime.
60 Men
& Women
Comprise our team of highly skilled woodworkers.
264,000
Board Feet
The approximate amount of cherry we use for building each year.
856
Years
Our craftsmen's collective woodworking experience.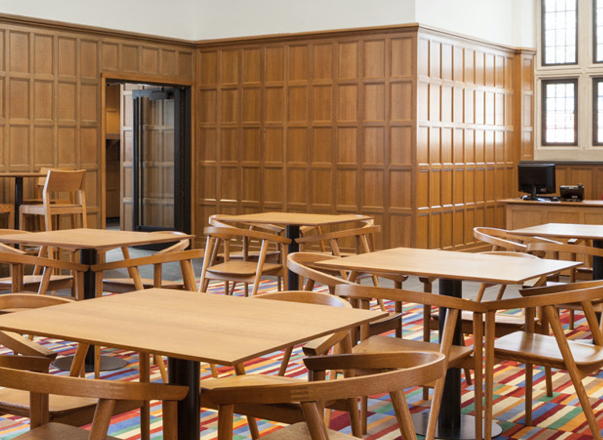 St. Paul's School
Are You Looking for Something More Unique?
Thos. Moser designs and makes furniture for hospitality, corporate and educational environments with a dedication to skill and precision in craft and to form and function in design.