Rectangular Table
$2,700.00 - $4,450.00
The Rectangular Dining Table celebrates purity in form – and function. Named to reflect its practicality, the table is just that: a simple geometric form that serves its purpose with quiet power. This table exemplifies our design philosophy, with aesthetics predicated on function and ornamentation derived from the exposed architecture of the furniture and the translucent richness of the wood itself. The durable hand finish reveals every inch of the wood's natural grain – and welcomes a lifetime of memorable gatherings.
Product Specifications
SKU: RDT

Large: 30"H x 42"W x 104"L
Medium: 30"H x 36"W x 80"L
Small: 30"H x 36"W x 60"L

Wood: Cherry, Walnut

Size: Cherry, Walnut, Large, Medium, Small

Designed by Tom Moser
Made to Order
Our expert craftsman here in Maine are waiting to create a piece just for you.
Our furniture is made to order. Due to high demand, lead times may vary. A 50% deposit is required to initiate your online order. The balance will be due prior to shipment.
Would you like to send this to an address outside the continental US? Request a delivery estimate
Purity in form.
The Rectangular Dining Table is fundamentally Shaker in its simplicity. Crafted with four square legs that rise to meet a recessed, reinforcing skirt, the absence of spreaders bespeaks the design's strength. There is nothing beneath the table to interfere with comfort or storage.
Like the legs, the tabletop is linear. A perfect rectangle, the gently-finished surface is unspeakably durable. The beauty of the wood grain is on display – manifesting a work of art that is simple and unique.
Offered in both six- and eight-seat sizes, the Rectangular Dining Table can be selected for any space. The airy table allows light to play beneath its expanse and affords ample room to store chairs when not in use.
It's All In the Details
We are committed to building furniture of truly lasting value. When you purchase a Thos. Moser piece, we enter into a lifetime of friendship and service. As the original owner of a piece of Thos. Moser, we will guarantee our workmanship and wood materials for your lifetime.
856
Years
Our craftsmen's collective woodworking experience.
264,000
Board Feet
The approximate amount of cherry we use for building each year.
60 Men
& Women
Comprise our team of highly skilled woodworkers.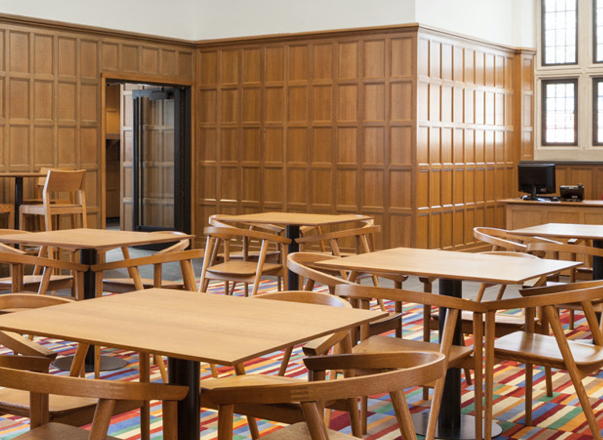 St. Paul's School
Are You Looking for Something More Unique?
Thos. Moser designs and makes furniture for hospitality, corporate and educational environments with a dedication to skill and precision in craft and to form and function in design.