Edo Trestle Table
$4,975.00 - $6,425.00
Playing with opposites like light and shadow, space and substance, the Edo Trestle Table brings all to rest in one satisfying whole. A broad cherry or walnut surface ranging from six to over eight feet in length lies upon a unique trestle leg configuration, grounding the table without adding bulk. Inspired by the work of Japan's Edo-period craftspeople, the table forms an elegant centerpiece and a practical addition to any dining area.
Product Specifications
SKU: AC-TRT

Large: 30"H x 38"W x 107"L
Medium: 30"H x 38"W x 83"L
Small: 30"H x 38"W x 71"L

Wood: Cherry, Walnut

Size: Cherry, Walnut, Large, Medium, Small

Designed by David Moser
Made to Order
Our expert craftsman here in Maine are waiting to create a piece just for you.
Our furniture is made to order. Due to high demand, lead times may vary. A 50% deposit is required to initiate your online order. The balance will be due prior to shipment.
Would you like to send this to an address outside the continental US? Request a delivery estimate
Solid, versatile, refined.
The Edo Trestle Table's support structure is striking. Unique in both its aesthetic and its design, the base of the table rests on splayed wedge feet, which rise from the floor via matching pairs of dramatically angled legs. The construction is profoundly practical, allowing both chairs and benches to nestle when not in use while providing ample space for legs and feet during mealtime.
The legs meet beneath the table top with intricate joinery that further enhances the table's stability, allowing the broad, utilitarian surface to offer an uninterrupted resting place for a hearty meal. The hardwood cherry or walnut table employs the tabletop as a showplace for the intricate grain structure, which is visible through its durable hand finish.
It's All In the Details
The Edo Trestle Table can be paired with other seating in the Edo Collection – including the Edo Bench and the Edo Dining Chair – but an adventurous sense of design makes it a successful companion to nearly any other seating option in our portfolio.
1972
The year Thos. Moser was founded in New Gloucester, Maine.
80,000
Square Feet
Of state-of-the-art, scalable manufacturing space in Auburn, Maine.
1
Guarantee
We guarantee our workmanship and wood materials for the lifetime of the original owner.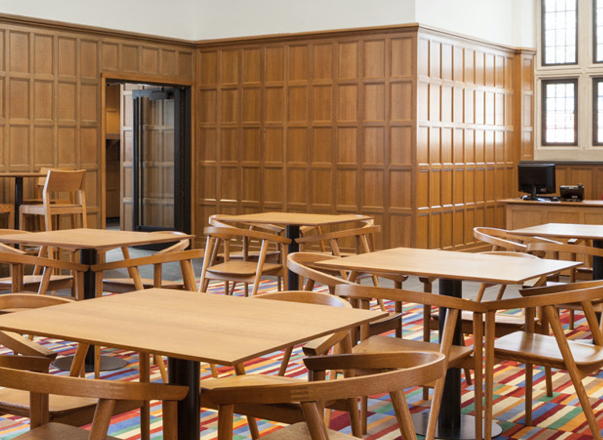 St. Paul's School
Are You Looking for Something More Unique?
Thos. Moser designs and makes furniture for hospitality, corporate and educational environments with a dedication to skill and precision in craft and to form and function in design.