Boat Top Table
$4,500.00 - $6,950.00
While created as a stand-alone piece, our Boat Top Table shares a simple motif with our Eastward Collection. The table, which bows at its center, mimics the gentle curvature of the Eastward Chair's crest, arms and seat – forming an enticing ensemble for an oft-used dining area.
Product Specifications
SKU: BT

30″H x 40″W x 72″L

Wood: Cherry, Walnut

Size: Cherry, Walnut, Large, Small
Made to Order
Our expert craftsman here in Maine are waiting to create a piece just for you.
Our furniture is made to order. Due to high demand, lead times may vary. A 50% deposit is required to initiate your online order. The balance will be due prior to shipment.
Would you like to send this to an address outside the continental US? Request a delivery estimate
Exceptional versatility and craftsmanship.
The Boat Top Table's most prominent feature is its top – a wide swath of walnut or cherry that bows as it approaches its center, narrowing at either end. The visual effect is striking, but the practical benefits are clear: this is a table made to accommodate a large crowd in complete comfort, with enough space for a memorable meal.
The base of the Boat Top Table is traditional Moser in its simplicity, with tapered legs that widen as they rise from the floor to join the supporting skirts below the tabletop. The legs secure with finely crafted mortise-and-tenon joints that ensure plenty of stability and durability without the need to use spreaders. The table's open stance allows easy storage of nesting chairs when not in use while providing ample room for legs and feet during mealtime.
It's All In the Details
The Boat Top Table's simplicity affords it a large measure of versatility. While a natural match for a suite of Eastward Chairs, the table integrates naturally with other seating, whether traditional or contemporary.
1
Guarantee
We guarantee our workmanship and wood materials for the lifetime of the original owner.
60 Men
& Women
Comprise our team of highly skilled woodworkers.
856
Years
Our craftsmen's collective woodworking experience.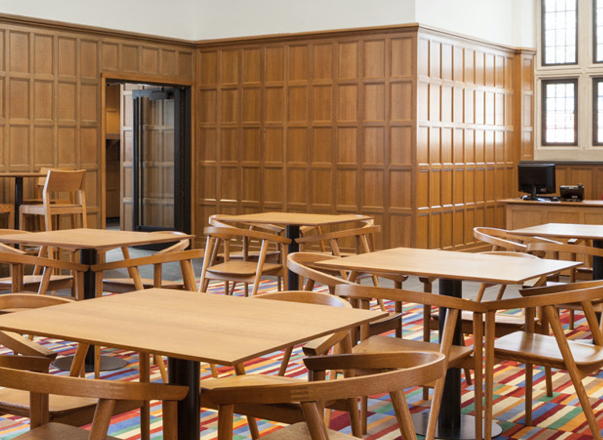 St. Paul's School
Are You Looking for Something More Unique?
Thos. Moser designs and makes furniture for hospitality, corporate and educational environments with a dedication to skill and precision in craft and to form and function in design.