American Bungalow Side Table
$1,475.00 - $1,775.00
The American Bungalow Side Table finds inspiration from the Arts and Crafts aesthetic popularized during the early 20th century often seen in the cozy, livable architecture of that period. The side table employs the collection's sturdy, reverse-tapered square legs, which frame the lower shelf and support the table with remarkable strength and stability.
Product Specifications
SKU: AC-ST

20"H x 27"W x 18"D

Designer: David Moser, Tom Moser

Wood: David Moser, Tom Moser, Cherry, Walnut
Made to Order
Our expert craftsman here in Maine are waiting to create a piece just for you.
Our furniture is made to order. Due to high demand, lead times may vary. A 50% deposit is required to initiate your online order. The balance will be due prior to shipment.
Would you like to send this to an address outside the continental US? Request a delivery estimate
A COMMITMENT TO PERFECTION.
The American Bungalow Side Table will complement the aesthetic of most any living room environment, with a presence that suggests its purpose. Ideal for a lamp, a book, and a host of small necessities, the side table is assembled with a series of meticulous tongue-in-groove joints that provide uncompromising durability.
Typical of other pieces in its namesake collection, the American Bungalow Side Table also features signature design flourishes. The table rests atop four lengths of joined wood, with ends that extend past the lower structure for aesthetic appeal. At the bottom of the side table, we have placed a shelf for additional storage of reading materials or other small items.
It's All In the Details
We are committed to building furniture of truly lasting value. When you purchase a Thos. Moser piece, we enter into a lifetime of friendship and service. As the original owner of a piece of Thos. Moser, we will guarantee our workmanship and wood materials for your lifetime.
80,000
Square Feet
Of state-of-the-art, scalable manufacturing space in Auburn, Maine.
60 Men
& Women
Comprise our team of highly skilled woodworkers.
264,000
Board Feet
The approximate amount of cherry we use for building each year.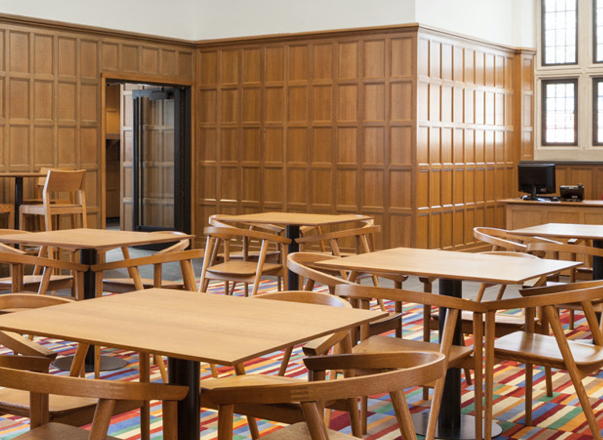 St. Paul's School
Are You Looking for Something More Unique?
Thos. Moser designs and makes furniture for hospitality, corporate and educational environments with a dedication to skill and precision in craft and to form and function in design.