Wing End Table
$1,000.00 - $1,200.00
The delightful flow of the Wing End Table captures the organic profile of its companions that make up our Wing Collection. Crafted with the same fervent precision, the table can sit with elegance beside the Wing Chair, meeting the curved edge of its arm exactly. The surface has a rounded edge and is hand-sanded on both top and bottom to a buttery smoothness.
Product Specifications
SKU: DM-ET

22″H x 18″W x "L

Wood: Cherry, Walnut

Designed by David Moser
Made to Order
Our expert craftsman here in Maine are waiting to create a piece just for you.
Our furniture is made to order. Due to high demand, lead times may vary. A 50% deposit is required to initiate your online order. The balance will be due prior to shipment.
Would you like to send this to an address outside the continental US? Request a delivery estimate
Simple Elegance.
The Wing End Table requires fine woodworking, with graceful legs that sweep as they rise and precise joinery that owes its inspiration to generations of Shaker craftsmen. Made of natural hardwood, the table is finished to a subtle luster, offering a clear view of its intricate grain structure.
The legs of the table are precision-joined with both its recessed skirt and its top. The tabletop surface is simple, coaxed from the wood of a single tree to provide a firm, beautiful surface that's durable enough to last a lifetime.
It's All In the Details
As a member of the Wing Collection, the Wing End Table complements its namesake seating, but its simplicity allows it to rest comfortably with both contemporary and traditional interiors.
80,000
Square Feet
Of state-of-the-art, scalable manufacturing space in Auburn, Maine.
1
Guarantee
We guarantee our workmanship and wood materials for the lifetime of the original owner.
856
Years
Our craftsmen's collective woodworking experience.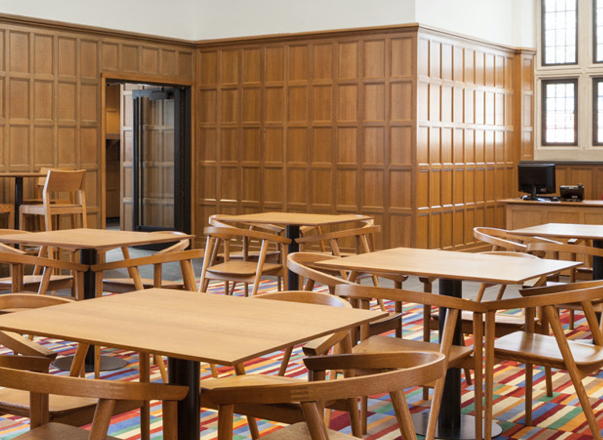 St. Paul's School
Are You Looking for Something More Unique?
Thos. Moser designs and makes furniture for hospitality, corporate and educational environments with a dedication to skill and precision in craft and to form and function in design.