For many of us, office professionals and students alike, sitting at a desk is an unavoidable part of our day. However, sitting for long periods, day after day, can harm our well-being and productivity. From backaches to neck tension and brain-fog, prevention of these ailments is in the way we work. An adjustable-height desk is one method of creating an ergonomic workstation to combat fatigue and damage from sitting. Here are 5 benefits of choosing a handmade adjustable height desk for your home office or workspace.
Take a stand
Variety is the spice of life, and standing offers a much-needed break from sitting for eight or more hours a day, every day. A beautiful and well-designed lift desk is an ideal solution that allows you to easily switch from sitting to standing with the push of a button. Many sit-stand desks on the market are designed for the average-sized person, requiring the purchase of accessories like monitor extenders to create a comfortable working position. The Bijou Lift Desk offers stability and grace even at the maximum height of 51″. When your feet tire of standing, the desk gently lowers to 26″ to accommodate your favorite desk chair or stool.
Increase your productivity
Have you ever struggled to come up with a creative solution or a new idea? One way you may have resolved this is by getting up from your desk and taking a brief walk or standing up to clear your head. An adjustable height desk moves with you as you change positions allowing you to stay focused on the work at hand without losing momentum.
Overall Health and Well-Being
Sitting at your desk all day may cause a host of health issues- even for those who lead a relatively physical lifestyle outside of work. Our bodies are designed to move, bend, twist and be agile—not to sit for long periods. The benefits of alternating between sitting and standing for several hours a day may increase blood flow, improve posture, and reduce back pain. Not to mention, standing burns more calories per hour than sitting. An adjustable height desk allows us to seamlessly transition from sitting to standing while boosting our critical thinking skills and focus.
Take charge
Today's workforce demands a desk that works in tandem with them. This means integrated technology and data ports, a charging station, wire management, and a desk that will offer the flexibility to work in any space—be it big or small. With laptops and smartphones taking center stage in our mobile lifestyles, the Bijou Lift Desk has smartly concealed a central charging station beneath the lid of the elevated work surface.
Flexible, just like you
These days we're finding creative and often small corners of the home to stand in as our office. The Bijou desk's beauty is in its ability to offer a contemporary design that feels at home in any space while providing the flexibility of a full-scale desk that fits in smaller spaces and augments executive suites. The addition of concealed storage to the top of the desk offers ample room for storing everyday items and a beautiful and broad work surface ideal for laptops, tablets, and portfolios. Desktop storage offers a visually unobtrusive work environment that allows creative ideas to flow freely. The desk also raises and lowers to meet your exact standing and seated position with the touch of a button.
The advantage of choosing a beautifully handmade desk like our Bijou Lift Desk is that it is made one at a time by hand— therefore, you know the materials are sustainably sourced, it can be built in the wood species of your choice, and you know, it's made just for you. With hand-polished surfaces, gentle, welcoming curves, and integrated power and data ports, the Bijou Lift Desk will soon become the crown jewel of your workspace, helping you accomplish your goals in comfort and style.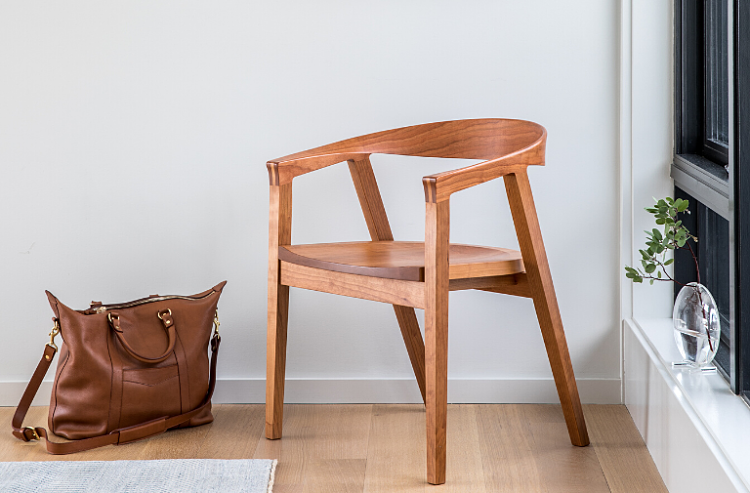 It was upon closer inspection customer David M. discovered that his chair had a unique marking.
Read More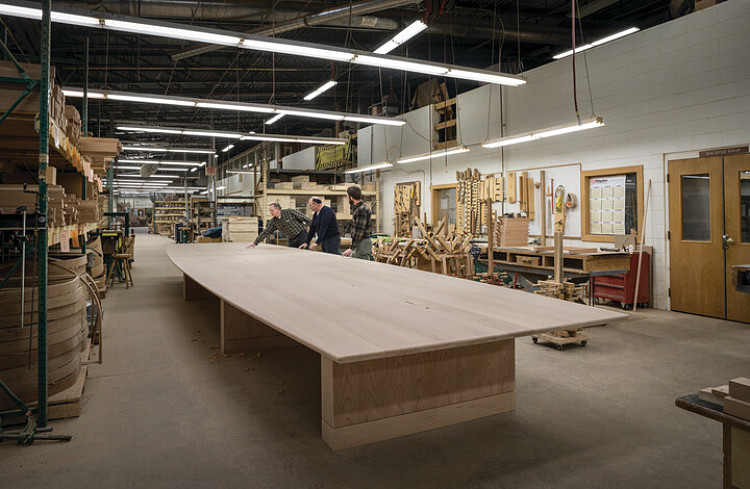 The most significant projects are born through collaboration and a willingness to push the limits. This is how we have crafted tables that span more than thirty-six feet long. Read how we have blended the art of handcrafted furniture with modern technology to create these one-of-a-kind tables.
Read More