Building a Family Tradition
 How a Thos. Moser employee made a one-of-a-kind gift for her son
There is a piece of furniture within the Moser catalog that immediately stands out for each of us. It invokes a familiar feeling of comfort, childhood memories and feels like it was specifically designed just for us. This is precisely how Renée, a member of our customer care team, felt when she walked through the lobby doors at Thos. Moser and saw the child's size Continuous Arm Rocker.
Renée and her husband, Randy, have a special appreciation for rocking chairs— especially those made by a family member. In their home, they have one built by Randy's grandfather. In this chair, Renée would sit and gently rock her son Riley to sleep. As a child, Renée remembers playing with two small rocking chairs that belonged to her father and Aunt that have since been passed on to her parents. When she visits their house, Riley, now two years old, delights moving between both rockers and playing in them. These chairs entertain him for hours and are just his size; he loves to spend time rocking in Grampie's chairs.  
When Riley came to visit Renée at work one afternoon he noticed the children's sized chair right away. At that moment, it became clear to Renée she needed to find a way to get the rocker for him. 
As a company, Thos. Moser has dedicated itself to sharing and inspiring the next generation of makers to carry on the tradition of building furniture well. One of the benefits of being an employee at Thos. Moser is personal projects. During this experience, an employee is able to work side by side with a master craftsperson — much like our Customer In Residence program — who helps them build their own piece of Thos. Moser furniture while gaining an appreciation for the intricacies of the craft.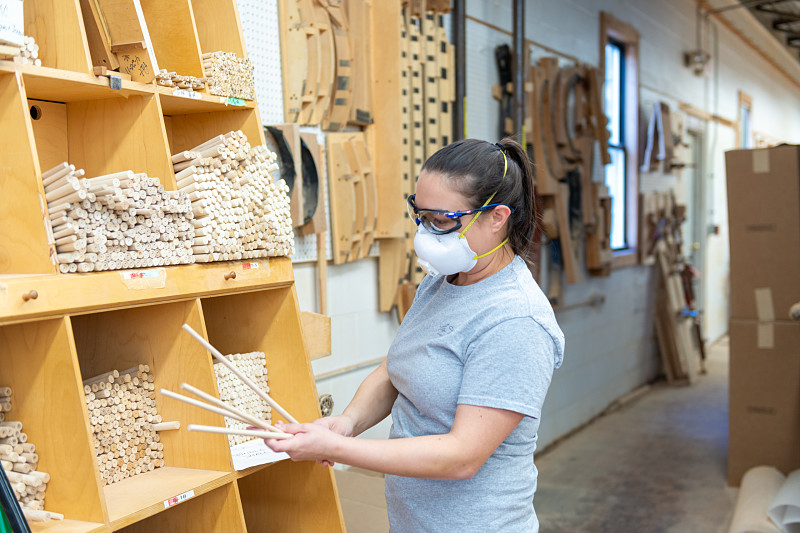 Renée used this opportunity to build Riley a small rocker of his own. The prospect of creating something by hand for her son was exhilarating— especially for someone who professes not to have a lot of experience making something by hand. But the opportunity to go down on the shop floor and have someone show her how to do every step of the process was significant— it allowed her to carry on the legacy of rockers in her family's history and provide her son with an heirloom of his own. She loved the fact that she would be able to look at the rocker for years to come and know that she had a hand in its construction.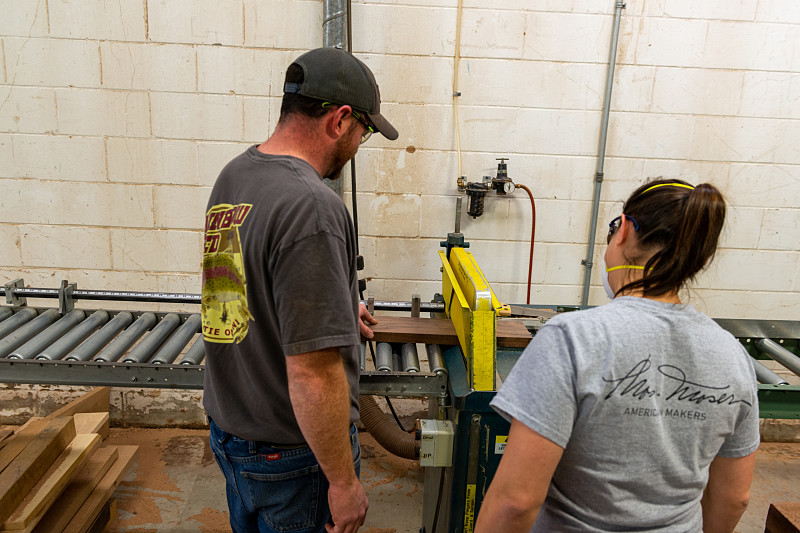 When looking back on the experience, Renée recalls "There were no shortcuts or "'good-enough"' moments." While working with Jim Wisser in our rough mill to select the boards that would become her rocker, she says, "I put total faith in his expertise. For me, looking at the wood in that rough form, I had no idea what the finished seat or arm would look like."  
With a few off-centered mortise and tenon joints on the seat and arms, it's proof that she made it. Renée notes, "It's not perfect, but it's Mamma made. It felt terrific to be able to take something home I had a hand in making. My hope is in the years to come, Riley will come through my entryway with his little ones, and they will play in the rocking chair I made for him. And I can tell his children the story of how this is a part of their family's history." 
To this day, every time Renée sees a child's rocker coming through production, she gets excited. "It's a different level of excitement when you see one of these chairs go through finishing. It's a particular gift— one that is going to someone's child or grandchild, and you know that child is going to love a chair that is made just for them." 
"Every family has its unique heirlooms. There is a certain sense of pride that comes with making and giving your child something. And you know that when something is going to a child, whether it's a chair, blanket, or teddy bear, that even upon seeing it years later, it will reignite the joy of those childhood memories."  
If you're interested in building your own piece of Thos. Moser furniture, we invite you to explore our Customer In Residence Program. This unique opportunity allows you to work side-by-side with a Moser craftsman for a week in our Auburn, Maine workshop.