The Lieutenant's Chest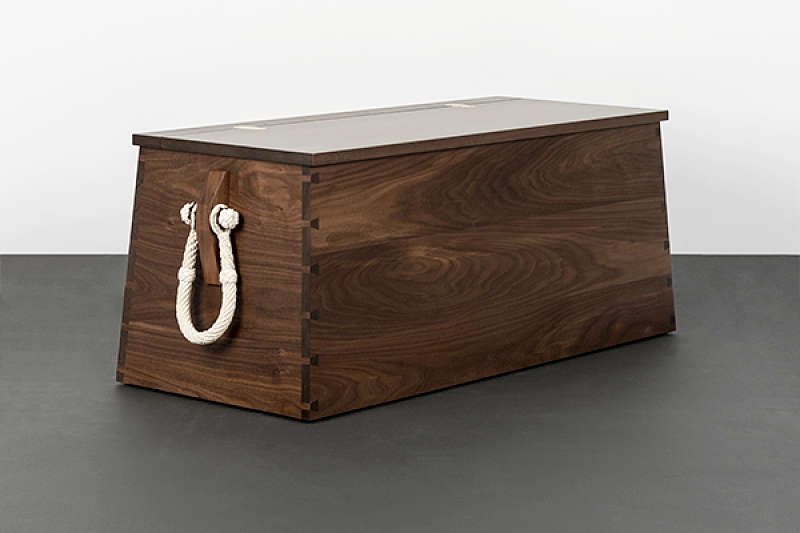 On a warm Monday morning in early September, we welcomed our 84th class of Customer in Residence participants to our shop in Auburn, Maine. Before their arrival, the students submit proposals of their intended projects and provide a brief bio, including their skill level and what lead them to participate in the program. Each student comes with their own skillset, love of Moser furniture, and desire to build something that will last a lifetime. So when Kimber and Lorraine submitted their bio and proposal to build our Captian's Chest with the modification of rope beckets, our interest peaked immediately. Oftentimes these projects are being built for another family member or loved one, and this was the case for both of the pieces they made during their week at Moser.
Kimber and Lorraine's daughter, Susannah, is a Lieutenant with the Navy. After returning from her second deployment, she settled into her new home in Newport, RI. There, Susannah teaches newly commissioned officers ship handling, seamanship, and navigation. As her nomadic days of moving from port to port and lengthy deployments were ending, it seemed ideal for her to begin establishing and furnishing her home.  After consulting with Susannah, Kimber and Lorraine settled on making a Windward Bookcase– as she was an English major and has amassed many books over the years- and the Captain's Chest.
The Serendipitous Beckets
One evening, as they prepared for their visit to Maine, they turned on the television and saw a program on The Chronicle, a local Boston human interest news production. This segment featured Marlinspike Chandlery, based in Stonington, Maine. Tim Whitten, owner, and creator of Marlinspike Chandlery, is best known for his amazing rope work, which is most identified with old sailing ship days. Mr. Whitten shares a quote from Clifford Ashley's book "The Ashley Book of Knots," which describes a proper sea chest as having "slanted sides to save the shins, and beckets long enough to save the knuckles."
Drawn to the craft by its intrinsic complexity, resulting in shapes, patterns, and textures, Tim began a hobby that would lead him to become the fiber artist he is today. In 2008, Tim moved to Maine and turned his ropework hobby into a business.  A "chandlery" is a sort of general store often found in seaport towns. Thus the "Marlinespike Chandlery" is a store specializing in fancy marlinespike ropework and filled with various related artifacts, antiques, and other interesting items.
A master of his craft, Tim Witten's beckets utilize complex patterns, shapes, textures, and geometry.
The line drawing of the wooden brackets that would be utilized on the "Lieutenant's Chest."
Marlinespike work includes many forms of weaving, braiding, knotting, and sculpting with rope and twine.
One of Tim's specialties is creating "beckets," rope handles for sea chests. Upon seeing the Chronicle feature, Kimber and Lorraine immediately contacted Tim and ordered a pair for the Captain's Chest they were to build for their daughter. As their CIR session neared, they learned that neither the beckets nor the brackets would be ready in time for them to bring during their build week. Unsure of how this change would be received at Thos. Moser, they notified Steve Wyman (our Dean of Students) and provided a bracket drawing with the dimensions, as they wanted the brackets to be cut from the same walnut as the chest. They were delighted to find that instead of being an issue, we – particularly their assigned craftsman, Bob Fisher, embraced the idea. The design of the brackets would become a collaboration between Bob, Steve, and our in-house engineering and design team. The brackets that were designed for their chest were the perfect blend of design and functionality.
Tim remarks, "It is always an honor to see my work being used in commemorative applications as was the case for Kimber and Lorraine's Lieutenant's Chest." He adds, " my focus is on preserving the aesthetic of traditional marlinespike work, and I'm pleased when my work is chosen for those qualities."
The Craftsman's Signature
At the end of each CIR session, students are surrounded by the entire Thos. Moser community of staff and craftsmen to celebrate their time here and the incredible pieces of furniture they have created. At the conclusion of the ceremony, our CIR graduates sign their work with Tom Moser, and the craftsman they worked with throughout the week as a mark of their craftsmanship and to celebrate the comradery of the woodworking community.
Reflecting on their experience at Moser, Kimber and Lorraine said, "The entire experience was beyond special. We are long-time Moser customers and admirers of the furniture."  For Kimber, this was his second session and for Lorraine, her first. They were excited to be able to build something together and pass on their love of Moser furniture to the next generation and feel quite confident that their daughter will be a future CIR graduate. During their week they shared that " We wove together our family and the Moser family, producing amazing memories and beautiful furniture that will remain in our family for generations. We met so many incredibly kind and talented people who are the true faces of Maine and Moser. We are deeply grateful to Tom, Mary, and the Moser Family, and all the wonderful people we were able to work with and meet during our week at Moser."
After the completion of their CIR week, they left the chest and the bookcase at Moser for finishing. Within a week, they received the completed beckets from Tim and immediately forwarded them to the shop. Here, the craftsmen at Moser installed the beckets and promptly shipped both pieces out.
On Friday, October 4th, Susannah returned home from Bahrain. While she already knew the pieces were being made, Kimber and Lorraine were thrilled to give her the fruits of their labor. Keeping it a surprise, and ensuring the fun of the reveal, they had not shown her any photographs of the pieces. Stated simply- she was stunned! To them, "it was such a meaningful moment to be able to give her such profoundly beautiful furniture that reflects her life and passions."
If you or someone you know would be interested in participating in our Customer In Residence program, we would love to hear from you! This weeklong immersion program also makes a memorable gift.