Windward Bookcase
$1,800.00 - $2,150.00
For Tom Moser, the Windward Bookcase is special. Inspired by a 1920s-era Arts and Crafts bookcase that was handcrafted by his father – Joseph – for his sister, the Windward Bookcase stands as a tribute. Tom put his own touches on the piece, adding removable shelves, traditional joinery and a number of subtle aesthetic variations. With use and celebration of traditional materials and woodworking techniques, the Windward Bookcase enhances any living, bedroom or office environment.
Product Specifications
SKU: WWBC

36″H x 36″W x 13″L

Wood: Cherry, Figured Maple, Walnut

Designed by Tom Moser
Made to Order
Our expert craftsman here in Maine are waiting to create a piece just for you.
Our furniture is made to order. Due to high demand, lead times may vary. A 50% deposit is required to initiate your online order. The balance will be due prior to shipment.
Would you like to send this to an address outside the continental US? Request a delivery estimate
A True Moser Design.
The Windward Bookcase retained much of the aesthetic of its inspiration, but Tom is Tom, and felt compelled to improve on the original design. Living within the Windward Collection, the bookcase reflects the trends of the Arts and Crafts movement, with slender slats that grace both sides, allowing light to play through the frame.
The twin interior shelves of the Windward Bookcase are adjustable – an alteration from the original – allowing easy adjustment. Handmade from solid North American hardwood planks, the shelves are pinned on either side, and provide a durable, stable and beautiful resting place for books and other objects.
The frame of the bookcase is crafted of linear hardwood legs, securing at upper and lower skirts with traditional joinery. The skirts reinforce the structure, securing to both the lower shelf. The top overlaps the bookcase, and provides a durable surface that highlights the wood's natural grain.
It's All In the Details
The legacy of the Windward Bookcase is essential, adding meaning to its creation. Tom lost both of his parents at a young age, before his 18th birthday. As a result of the disruption that ensued, he retained almost no physical mementos of either parent save for his mother's coffee cups and a bookcase built by his father as a gift to his sister, Tom's Aunt Annie. The bookcase eventually found its way to Tom and remains in his home to this day.
1972
The year Thos. Moser was founded in New Gloucester, Maine.
1
Guarantee
We guarantee our workmanship and wood materials for the lifetime of the original owner.
264,000
Board Feet
The approximate amount of cherry we use for building each year.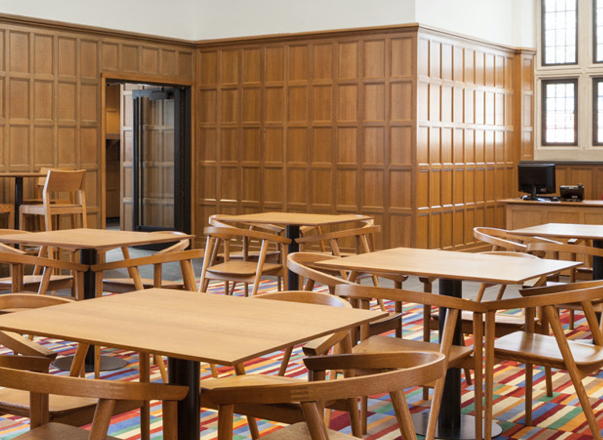 St. Paul's School
Are You Looking for Something More Unique?
Thos. Moser designs and makes furniture for hospitality, corporate and educational environments with a dedication to skill and precision in craft and to form and function in design.