Inside The Design Process for Our New Spring 2019 Pieces
Coming up with design ideas for new products is no simple task, but Peter Basil—our Product Design Engineer—makes it look easy. As a graduate of RIT's School for American Crafts, with a degree in Woodworking & Furniture Design, Basil's eye for design is both sharp and innovative. He has been with Thos. Moser for nearly five years and enjoys every second of what he does. "I enjoy the puzzle of the design process, trying to create pieces that fit the unique constraints of Thos. Moser and that feel at home amongst the other great designs here," says Basil.
Creating a new Thos. Moser design unfolds over many months, from initial conception to prototyping, review and revision if necessary. When considering new pieces to add to our collection, we are often inspired by a combination of historical references, customer ideas and gaps in our lineup. Our latest designs are no exception.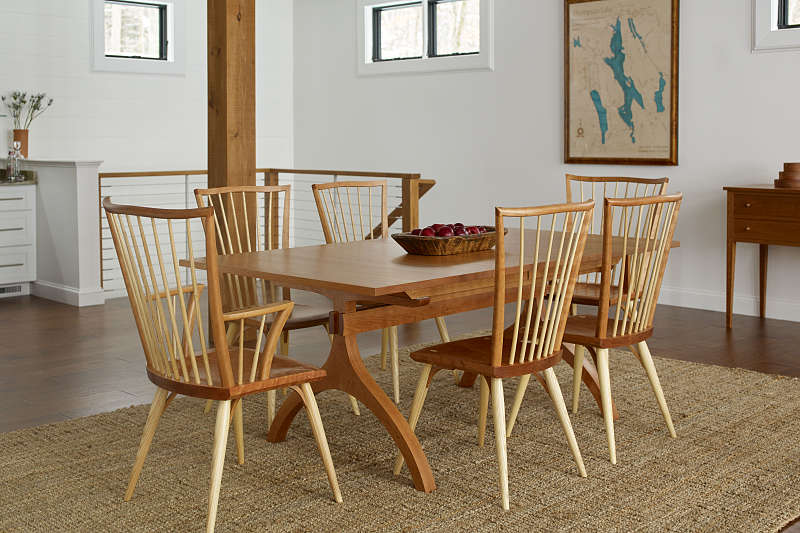 The Wishbone Table, so named after its remarkable, eye-catching leg design is Thos. Moser's first extension table with self-storing leaves. It comes with two 22" leaves that are hidden below the table top surface. This table comfortably sits 4-6 people while closed and a max of 10 when it's fully extended, taking it from 76" to 120".
It features hand-carved finger grooves at each end of the table for an easy open. You'll find that the table glides effortlessly along its steel ball-bearing system. The trestle base is a beautiful statement piece that is made from three pieces of wood mitered together in perfect precision and joined with two splines.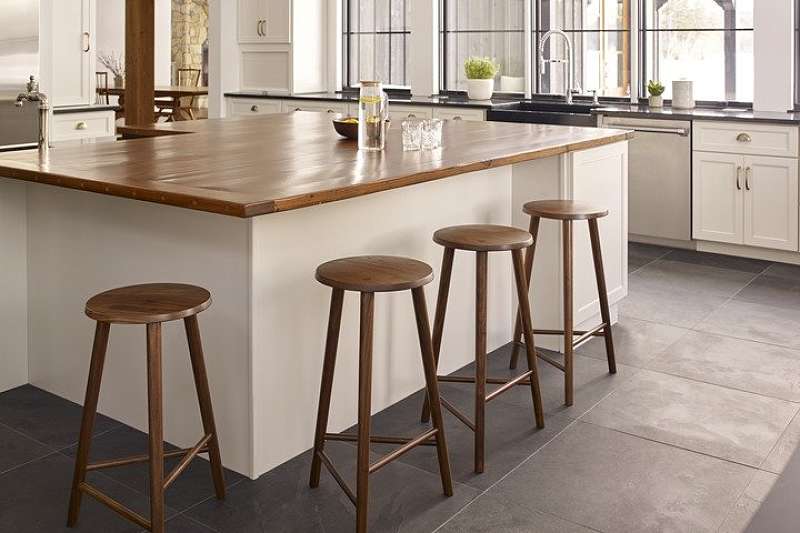 This stool may be the smallest in our line of stools, but it still makes a big statement with its unique three-leg design. Its simple design features turned tapered legs joined to a slightly domed seat by wedged through-tenons. The round stretchers are held in the legs by mortise and tenon joints that are pinned for added strength and durability. This stool comes in many different heights, from 18" to 31", fitting most counter spaces and is constructed entirely of one wood species, unlike our other stools.
Making the Hallowell Stool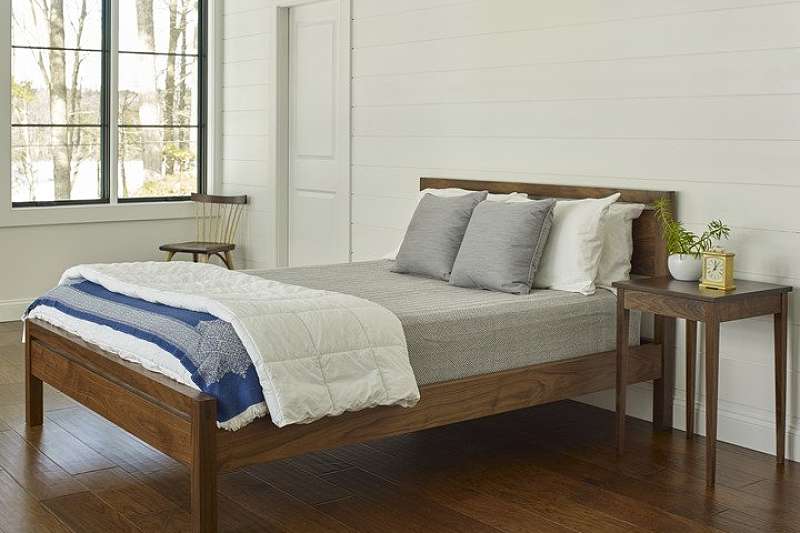 This bed is a classic example of a Shaker-inspired, clean design that is modern in style. It features gorgeous exposed bridal joints on both the headboard and footboard. These traditional joints are extremely strong and then pinned for increased durability. The connecting hardware for the side rails is concealed for a clean and contemporary look.
The bed's low profile design makes it well-suited for large master bedrooms and small studio apartments alike. It is available in a number of sizes, from twin to california king. It was originally designed with platforms to accommodate a 10″ mattress, but it can be modified to fit any mattress or box spring, as this bed is fully customizable.
Committing To Perfection
We appreciate that some designs may take years to perfect, such is the case with our iconic Continuous Arm Chair. It was worked and re-worked over a number of years until deemed flawless by its creator, Tom Moser. As we continue to grow and be inspired by the world of design, we acknowledge that the more we change, the more we remain the same—always relying on function, respect for materials and quality in workmanship. We look forward to continuing to present original and fresh designs, ready to be cherished for generations to come.