Fly-Tying Desk
Limited Edition
In an exclusive collaboration conceived and crafted in Maine, L.L.Bean and Thos. Moser introduce a limited edition of five fly-tying desks of unparalleled workmanship: simplicity in form, precision in craft, excellence in function.
WOOD: American black cherry
DIMENSIONS: 72″H x 37"W x 22"D
 All limited edition Fly-Tying Desks have been sold at this time.
Contact us to discuss a custom order.
Durable Workspace
Marmoleum inlay protects a solid American black cherry desktop from dents, scratches and dripped cement.
Custom Spool Case
Specially designed by L.L.Bean's fly-tying experts and meticulously crafted by our craftsmen for intelligent spool management.
Extensive Storage
Over 20 drawers constructed using dovetail joinery, including six lined in cedar to protect valuable organic materials.
Hand Signed
An honored Thos. Moser tradition that represents our craftsmen's unyielding promise of quality and a lifetime guarantee.
___
A natural partnership, L.L.Bean and Thos. Moser share a Maine-born heritage and an unwavering commitment to quality that informs every detail. From the inherent beauty of the raw material: sustainable cherry wood harvested in the Allegheny Plateau of Pennsylvania, distinguished by its rich grain figures and uniquely lustrous surface patina. To the hands that work it: a small team of Thos. Moser's incomparably skilled craftsmen, who labor hand and tool over each desk. To the piece that emerges: imbued with the purposeful form and thoughtful efficiency that could be gleaned only from generations of fly-tying experience.
___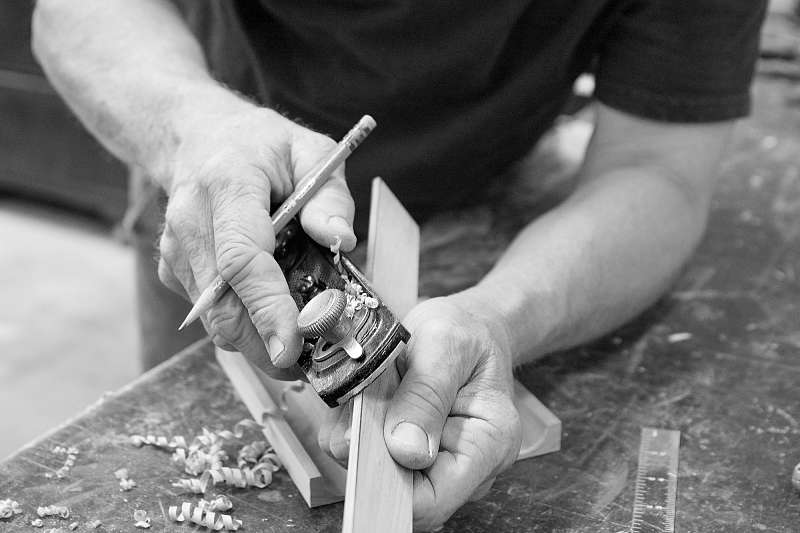 A Union of Precious Resources
In fly-tying – as in woodworking – it's the details that matter most. Through rigorous consultation with L.L.Bean's expert sportsmen, we were able to design a functionally innovative desk whose every surface, drawer, cabinet and case is intended to address the needs and aspirations of the avid fly fisherman. Dignified yet restrained, it stands out as much as it conceals.
For more information or to customize your own desk, please contact us.