Vita Ottoman
$1,350.00 - $1,625.00
The Vita Ottoman follows the cues of its natural companion, the Vita Chair. Built with graceful arcs and engineered with purposeful cantilevers, the base of the ottoman showcases both the beauty and strength of wood. Topped with a tufted cushion covered in hand-stitched leather, the Vita Ottoman is a welcome complement to the Vita Chair.
Product Specifications
SKU: VO

14″H x 22″W x 22″L

Wood: Cherry, Walnut

Upholstery: Cherry, Walnut, Riverside 0500, Riverside 1080, Riverside 1180, Riverside 1610, Riverside 2303, Riverside 2610, Riverside 2675, Riverside 5085, Riverside 9500

Designed by David Moser
Made to Order
Our expert craftsman here in Maine are waiting to create a piece just for you.
Our furniture is made to order. Due to high demand, lead times may vary. A 50% deposit is required to initiate your online order. The balance will be due prior to shipment.
Would you like to send this to an address outside the continental US? Request a delivery estimate
It's All In the Details
We are committed to building furniture of truly lasting value. When you purchase a Thos. Moser piece, we enter into a lifetime of friendship and service. As the original owner of a piece of Thos. Moser, we will guarantee our workmanship and wood materials for your lifetime.
264,000
Board Feet
The approximate amount of cherry we use for building each year.
1
Guarantee
We guarantee our workmanship and wood materials for the lifetime of the original owner.
60 Men
& Women
Comprise our team of highly skilled woodworkers.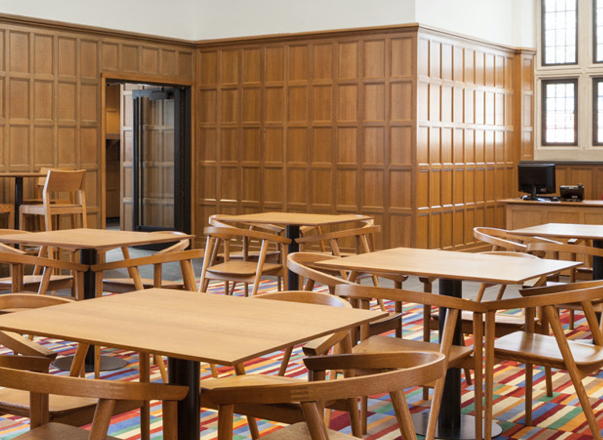 St. Paul's School
Are You Looking for Something More Unique?
Thos. Moser designs and makes furniture for hospitality, corporate and educational environments with a dedication to skill and precision in craft and to form and function in design.