Drift Chair
$4,100.00 - $4,925.00
Where recliners often put comfort before form, Drift embodies the Moser aesthetic – and fulfills our unyielding commitment to purposeful utility. Inspired by natural forms and flows, Drift's handmade legs and arms suggest gentle waves, joined by hand-finished mortise-and-tenon junctions and operates on a slide that functions with smooth silence – easing the upholstered back to your preferred position.
Product Specifications
SKU: DL

39″H x 27″W x 36″L

Wood: Cherry, Walnut

Upholstery: Cherry, Walnut, Hourglass K1523/2, Hourglass K1523/4, Hourglass K1523/26, Hourglass K1523/28, Pullman K21242, Soliloquy K14581, Riverside 0500, Riverside 1180, Riverside 1610, Riverside 2675

Designed by David Moser
Made to Order
Our expert craftsman here in Maine are waiting to create a piece just for you.
Our furniture is made to order. Due to high demand, lead times may vary. A 50% deposit is required to initiate your online order. The balance will be due prior to shipment.
Would you like to send this to an address outside the continental US? Request a delivery estimate
Drift into Comfort.
After you fall in love at first sight with Drift, you'll feel the depth of its character. You'll admire the elegant, curvilinear wave formed when legs converge in a fluid, precisely shaped arm. You'll appreciate the superior comfort as you recline, easing with smooth and silent motion back on our all-wood dovetail glide. And you'll welcome the firm comfort of Drift's upholstered cushions as you sink into a seat designed to satisfy all your senses.
Developed in response to the scarcity of refined recliners, the chair elevates the creative bar. This is an aficionado's recliner – a perch that fits comfortably with any lounge furniture in our repertoire.
It's All In the Details
We are committed to building furniture of truly lasting value. When you purchase a Thos. Moser piece, we enter into a lifetime of friendship and service. As the original owner of a piece of Thos. Moser, we will guarantee our workmanship and wood materials for your lifetime.
100%
of Wood
Sourced in North America from sustainable growing partners.
1
Guarantee
We guarantee our workmanship and wood materials for the lifetime of the original owner.
80,000
Square Feet
Of state-of-the-art, scalable manufacturing space in Auburn, Maine.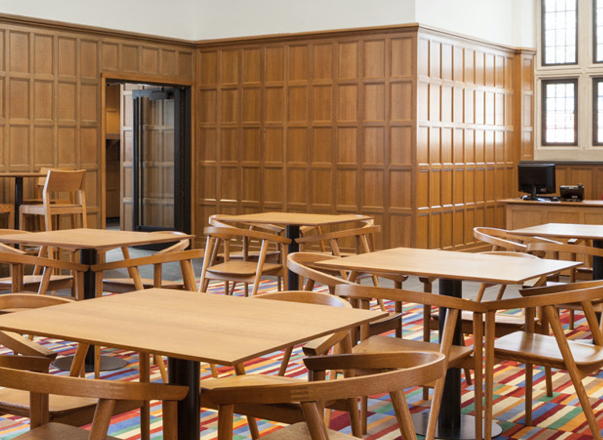 St. Paul's School
Are You Looking for Something More Unique?
Thos. Moser designs and makes furniture for hospitality, corporate and educational environments with a dedication to skill and precision in craft and to form and function in design.