The Unity Table
When we set out to create a piece of Thos. Moser furniture, we know three things going into it: it needs to be functional, it needs to be utilitarian while having the ability to transcend styles and trends and finally,  it needs to showcase our respect for the natural materials and our deep admiration for traditional woodworking techniques. This combination of ingredients is apparent in the design of our Unity Table. We created this table with smaller spaces in mind to allow families, uuniversity's and offices a place to gather, to sit down and connect with one another, share ideas, and create memories. With these ideals in mind, the name Unity was given to the table.  
Rooted In an "Essence-ONly" Design
During the 1980s, designs of the 1920s began to re-emerge, and the term "mid-century modern" was born to describe the organic shapes and minimalist appeal that was Danish Modern design. The forms celebrate Scandinavian design with rich use of gentle curves, organic shapes, and rounded edges.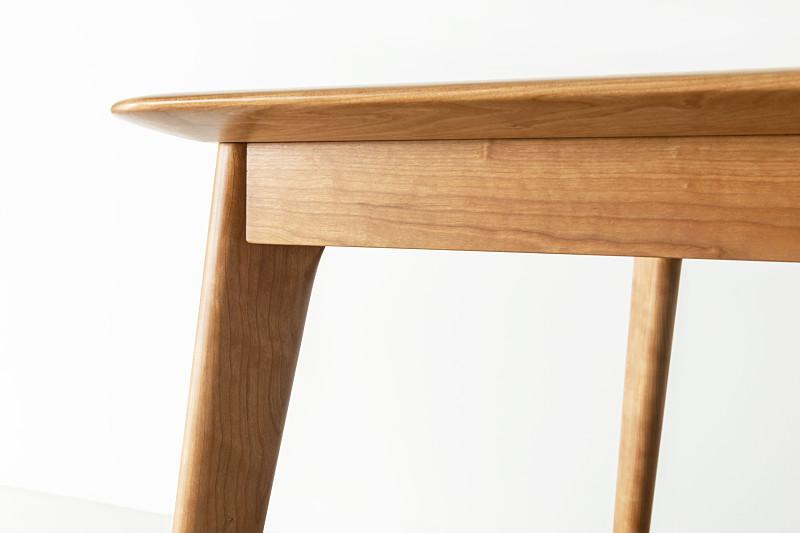 The Unity Table design echoes themes seen in mid-century modern design, where it derives its form through its elegant dedication to purpose. We have embraced these tenets and created a table that demonstrates our admiration for strength and beauty inherent in furniture hand-crafted from solid wood. The Unity Table holds true to ideals where the preference lies in functional, minimal designs whose palette complements any space and any style.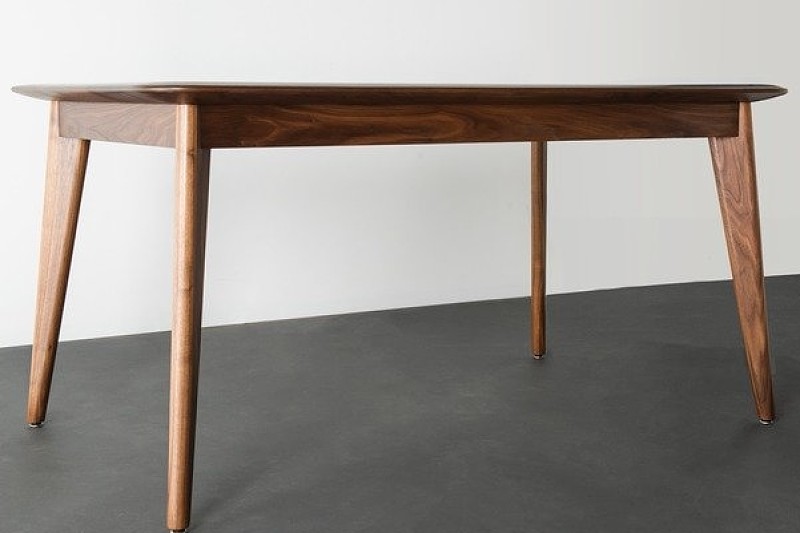 The Unity Table embodies an essence-only theory of design. Utilizing broad cherry or walnut boards, the top is a showplace for intricate grain patterns creating a utilitarian surface that offers an uninterrupted resting place for a meal, game night, or as a functional work from home desk. 
The edge of the table features an eased radius edge on both the top and underside of the table to comfortably accommodate forearms and create a welcoming surface for the user. These gentle curves are also featured in the splayed legs that rise to meet the top. The apron is joined to the legs with a neatly chamfered edge giving the base of the table an unobtrusive and light profile. The culmination of these elements showcases the flexibility of the Unity Table's uses and complements a wide range of our dining chairs.
Utilitarian Form and Function
The Unity Table demonstrates the power of elemental design, which makes it perfect for small living spaces or as a stunning addition to any community room, office, or reading table in public libraries. With ample seating for six, the small, solid top Unity Table creates an intimate setting that sparks a casual conversation between occupants and clean lines that open the door to creativity.  When specified for public spaces as community tables or for individual study carrels, the Unity Table can easily accommodate lighting fixtures and wire management to retain a clean look that does not distract from the design. 
Designed to Maximize Seating and space
New for fall, we have designed an extension version of the Unity Table. Made from the same sustainably harvested North American cherry or walnut, the table includes a broad, grain-matched top, levelers on the legs, and a removable 22-inch solid–wood leaf that is held in place with brass pins and locks. This traditional extension table allows the Unity Table to easily extend on a mechanical slide from 60-inches to 82-inches long on the small table, accommodating up to eight guests, and 84-inches to 106-inches for the large table which easily accommodates ten guests. 
Whether you are looking to furnish your dining room, office, or community space, the Unity Table provides unparalleled beauty and exemplary functionality. Though expressing the design with gentle curves, and minimalistic lines, the table showcases the natural beauty of wood coupled with mid-century modern principles and our commitment to time-honored traditions.