Our Customers: How Thos. Moser Furniture Lives on in Your Homes
In the beginning, all of Thos. Moser's customers were friends, family, and neighbors. Every project was built to order on a custom basis. Tom would build kitchen tables for neighbors, bookshelves for family friends, and chairs for relatives. At this time, there was no distinct style for Moser, but there was a passion that drove Tom to keep finding new projects.
For our first few years in business, our primary method of advertising was word of mouth. On one occasion, a local retired teacher, Katherine Stimets, had heard about us and commissioned a desk for $350. With this budget, Tom knew he had to work quickly or he would lose money. He crafted a complex piece with hand cut dovetails, eight drawers, thumbnail molding and a double pedestal with a modesty panel in front.
When the desk was complete, Tom felt a great deal of dismay —the dovetails were imperfect and the drawers not fitted properly. It was rushed and the quality was suffering, so he decided to try again—this time he made a simple writing desk with tapered legs and a single pencil drawer. It was exquisite in its simplicity—and she loved it. This experience taught Tom a lesson that served as a guiding philosophy for everything we do today: It is better to do less well, than do more and sacrifice quality.
Today, that desk is still part of the Stimets family. A legacy in wood that is used daily and will be loved for generations.
Dr. White's Chest
In 1977, a local doctor, Dr. Richard White, commissioned Tom Moser to build a large shaker style cabinet. The cabinet was very complex, consisting of seven dovetail drawers, an upper cabinet, and a secret compartment. The result, named after Dr. White himself, was so stunning, Tom Moser decided to add it as a permanent fixture in the Thos. Moser lineup. Dr. White's Chest remains the most demanding single piece of cabinetry that we offer, as well as one of the most in demand.
We listened and delivered when our customer asked for detail, elegance, and timelessness.  And it served us and the customer well. Over the years, many other customer requests have been added into our signature portfolio. Listening and adapting is deeply ingrained in the Thos. Moser DNA, and we have our customers to thank.
For 45 years, we've had the pleasure of sharing life's big moments with customers all over the world. From births to weddings, retirements and anniversaries—our furniture has helped families and friends celebrate these meaningful milestones and to keep the memories alive as the years pass.
From the entire Thos. Moser community—it has been a great honor to get to know so many of you so deeply. You've become dear friends throughout the last 45 years and we are grateful to be on this journey together. To all of our customers, both old and new, thank you.
A Cinderella Story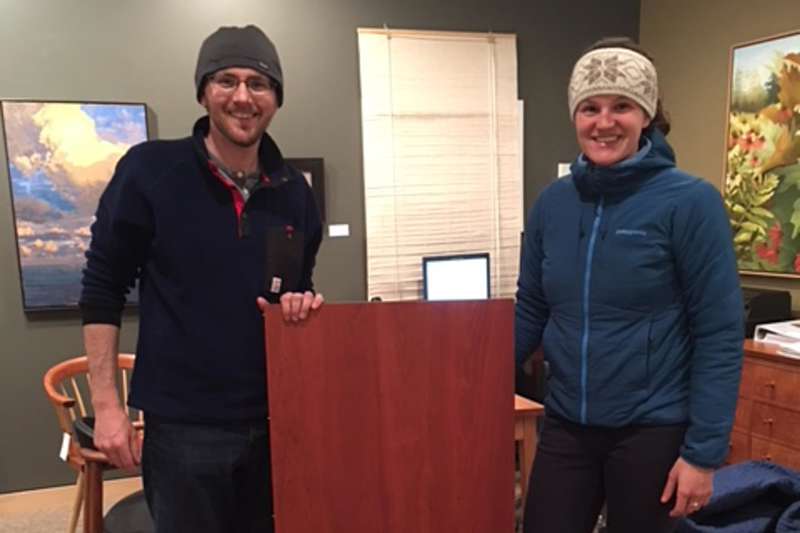 In January of 2018, a young couple wandered into our Freeport showroom. They had inherited a beautiful cherry Thos. Moser Oval Ring Dining Table, but it was missing a leaf. Adding a leaf to a dining table that fits properly after the fact can be difficult, even more so when the table is not present for fitting.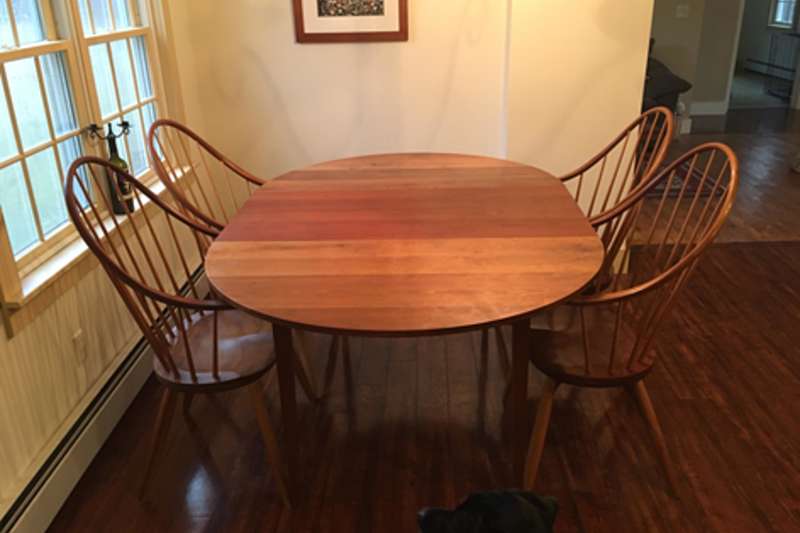 The staff in our Freeport showroom remembered that somehow, at least 15 years ago, an extra leaf had been separated from its original table, and had been tucked away in an office closet since. They gave it to the couple to try at home and lo and behold it fit like a glove.
We at Thos. Moser want to extend a sincere and heartfelt "Thank You" to all of our customers, past, present, and future. We hope you will join us as we embark upon the next 45 years of excellence in craft and handmade American furniture design!