Telling the Tale — Passing on a love of craft through the written word
Before becoming a full-time woodworker, Tom Moser was a tenured professor. He has always had a love for the art of communication and a profound ability to tell stories. As he has evolved from teacher to woodworker, he has used this skill to continue to educate the next generation of craftsmen.
Through inspiration, dutiful study of history, and years of practice restoring old homes and antiques, Tom Moser mastered the tools of fine woodworking and developed his own authentic style. His passion for craft and quality has served as inspiration for many who followed him into the field. And his journey to becoming a world-renowned woodworker is a story he enjoys sharing through speeches and classes, as well as through his 5 published books.
How to Build Shaker Furniture
Tom wrote his first book, How to Build Shaker Furniture, in 1977 — just 5 years after he started Thos. Moser. This book provides detailed plans and descriptions for how to build some of the most widely recognized Shaker pieces. In it, Tom combines furniture building with philosophy, resulting in a book that not only serves as a guide to construction, but also as a reminder of why we create, and why our work is meaningful. This seminal work on Shaker furniture is still available today, and has even been converted to Kindle!
Windsor Chair Making & Measured Shop Drawings
Two additional reference books, Windsor Chair Making and Thos. Moser's Measured Shop Drawings came shortly after — diving deeper into the construction details of popular American furniture designs, including Thos. Moser's iconic Continuous Arm Chair. These instructional works have provided woodworkers all over the world with plans for how to build functional and aesthetically pleasing furniture themselves.
Artistry in Wood
In his later work — Artistry in Wood, Tom dives into the culture that he has created at Thos. Moser. Sharing not only his approach to furniture making, but also his inspiration, material preferences, finishing practices, and the setup of the Thos. Moser workshop. Through sharing the philosophical aspects of building something tangible with your own two hands, Artistry in Wood provides a more complete look at Tom's life and the impact he has had on American woodworking.
Legacy in Wood
Legacy in Wood, an abbreviated and update telling of Artistry in Wood, was created in collaboration between Tom Moser and Donna McNeil, curator of the traveling museum exhibit Thos. Moser: Legacy in Wood. This shortened coffee table style book presents a stunning display of the fine details of Thos. Moser furniture. Providing a personal account of the creation of Thos. Moser as well as the craftsmen carrying on the legacy today, this visually impressive book is enjoyed by both furniture lovers and makers.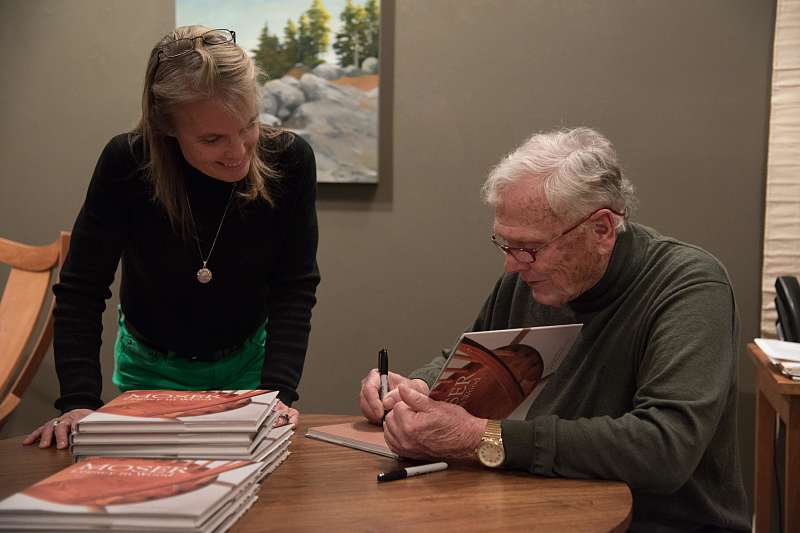 Tom has dedicated his life to passing on the principles of craft by sharing his knowledge of woodworking through his written work. His books have inspired many woodworkers and hobbyists from Jim Hensen to Andy Rooney. He has helped nurture a global culture of makers — a family of craftspeople that work each day to reinterpret and redefine past designs and techniques and carry forward the time-tested woodworking methods that have made Thos. Moser the legacy that it is.
PHOTO: Tom signing his book at our Maine showroom in April.