Books & Wood: How Public Libraries became the inspiration for new designs and new directions
Who has not experienced the spirituality of a library. That great repository of man's cumulative intelligence. In a library, one is inspired to levels of greater inquiry by those billions of words, whether contained in bound volumes or transcribed via digital technology. Furniture for such a compelling environment should reflect that spirituality and sense of timelessness. It should also accommodate books and technology, and the human form in all its variations.
So how did Thos. Moser become involved in projects like this? Our company has always grown through chapters, being open to opportunities as they have presented themselves. When a close residential customer requested that we build 40 tables and hundreds of chairs for her library we were up for the challenge. Our Library business was born. It has been through these direct residential customer relationships that we have gained access to large commercial and institutional projects and propelled our business to places we had not before imagined.
A Natural Fit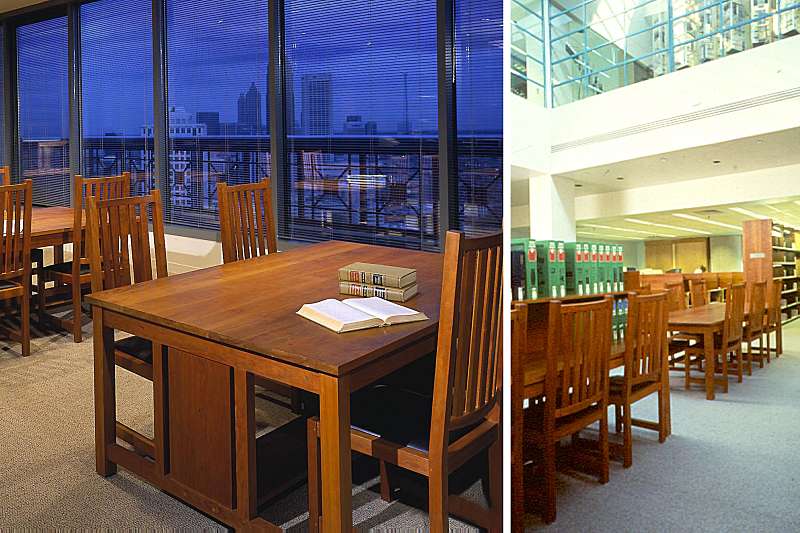 It was a natural fit in 1985 when the director of the Atlantic City Public Library – a Thos. Moser fan herself – came to us in search of tables that were large enough, yet durable enough, to withstand the everyday rigors of public use. After all, she had many holiday dinners with her family at such a table and wanted that same sensibility for another place she loved as much as home. Thirty-eight years later these tables and chairs continue to serve the needs of this public Institution.
Photo: Atlantic City Public Library
This first library project sparked the beginning of our Contract business. The durability of our furniture that is realized by using quality materials, the integrity of our craftsmanship, and the flexibility of our production model made the adoption of large corporate undertakings seamless.
THE READERS TABLE + CHAIRS
This was the first project of its kind and we were introduced to the library's architect to collaborate on a new design for the Atlantic City Public Library that would withstand the rigors of a public Institution — an open to the public 24 hours a day, 7 days a week. Tom Moser and the project architect collaborated on a design rooted in the arts and crafts style. Thus our Readers Table and Chair were born. Our fledgling in-house team of designers, engineers and craftsmen developed custom tables and chairs for the Atlantic City Public Library. The final design, an arts and crafts style set known today as Readers Table and Chairs, has become a staple in our catalog of library offerings.
In designing the Readers Table and Chairs, Tom Moser collaborated with his son Aaron to combine Tom's master woodworking skills with Aaron's keen understanding of the design nuances required for public spaces. The result is a striking collection that provides graceful mass and lasting durability. The Readers Table and Chairs offer an aesthetic that works in both residential and commercial spaces.
THE REGENT CHAIR
In the world of library installations and traditional professional environments, few items of furniture are as ubiquitous as The Bank of England Chair. Providing a sense of presence, elegance and durability, these chairs have weathered decades of use – transcending design movements to secure their place as an industry mainstay. In the early 2000's, Tom and Aaron Moser collaborated to design the Regent Chair for the University of Georgia – our own interpretation of the Bank of England Chair – and since that time, we have installed thousands in spaces ranging from academic libraries to corporate conference rooms to home offices. The Regent Chair has since become the signature chair of UGA, and is referred to by students, faculty and staff as the Bulldog Chair. Some 15 years later, these iconic chairs remain in use today.
A CUSTOM APPROACH
Since those early beginnings we have continued to improve our production facility to accommodate the construction of study carrels, lecterns, circulation desks, reference tables and any other piece of furniture required for the library space. Our unique production model has allowed us to prosper in the ever changing library and contract environment. We are able to take a custom tailored approach to each client we work with – offering full service design, manufacturing and installation of our handmade, solid wood furniture – from small batches of one or two pieces to fully furnishing libraries, dining halls, or corporate suites.
View a Gallery of Our Library Projects
EXPANDING OUR LEGACY
Since crafting furniture for the Atlantic City Public Library some 38 years ago, we have had the honor of creating dozens of additional custom designs for libraries all over the country including the New York Public Library, James B. Hunt Jr. Library, and the George W. Bush Presidential Center. In addition, we've crafted furniture for Ivy League universities, fortune 500 companies, Papal visits, and countless other esteemed organizations.
We design furniture that meets the highest standards for enduring function, style and durability. Our capabilities reach far beyond designing and manufacturing, but also encompass project management, sales support, engineering, shipping and logistics and finance logistics. If you love your work place as much as you love your home – consider extending the same quality of standards in furnishings for your office, board room, or lobby.