Rockport Table
$5,675.00 - $6,800.00
The Rockport Dining Table carries forward the function-first philosophy of Shaker craftspeople, while employing an inventive aesthetic that advances both the art and science of fine furniture design. Made of North American hardwoods, the table's concave-curved legs are its signature, seeming to spring forth from the floor in support of their proud top.
Product Specifications
SKU: R-DT

30″H x 43.1″W x 73.1″L

Wood: Cherry, Walnut

Designed by David Moser
Made to Order
Our expert craftsman here in Maine are waiting to create a piece just for you.
Our furniture is made to order. Due to high demand, lead times may vary. A 50% deposit is required to initiate your online order. The balance will be due prior to shipment.
Would you like to send this to an address outside the continental US? Request a delivery estimate
Elegant lines and purposeful utility.
The Rockport Dining Table employs much of what we've learned about joinery, and much we've evolved. With legs that curve as they rise, the table's base meets the tabletop at an elegant, purposeful angle, secured by a lasting tongue-in-groove joint. The strength of the joint is demonstrated by the absence of spreaders. The wood works with the joinery to provide an abundance of strength that defies compromise, even with age.
The tabletop, like the legs, rises to the level of art. Crafted with a broad, flat surface that exposes the unique grain of the selected wood, its edges angle downward, forming a recessing edge that welcomes table guests.
It's All In the Details
The table retains a level of simplicity that enables it to mesh with almost any seating. When in use, it provides abundant space for sitting guests, allowing ample room to stow chairs when mealtime is through.
60 Men
& Women
Comprise our team of highly skilled woodworkers.
264,000
Board Feet
The approximate amount of cherry we use for building each year.
100%
of Wood
Sourced in North America from sustainable growing partners.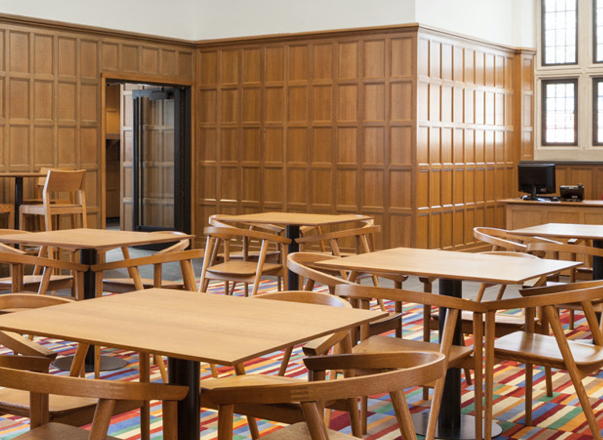 St. Paul's School
Are You Looking for Something More Unique?
Thos. Moser designs and makes furniture for hospitality, corporate and educational environments with a dedication to skill and precision in craft and to form and function in design.