Astral Bench
$20,000.00
The Astral Bench is a singular creation, borrowing on the clean, structured lines of Danish furniture design. Constructed of a series of wooden staves joined together, the bench is visually arresting – and, in true Moser form, remarkably comfortable.
Our showroom floor sample is now available for sale at a significant discount. Bench dimensions: 13'W x 6 1/2′ D x  32″H. The bench is listed for $20,000, to submit a reasonable offer, call 800-862-1973.
Made to Order
Our expert craftsman here in Maine are waiting to create a piece just for you.
Our furniture is made to order. Due to high demand, lead times may vary. A 50% deposit is required to initiate your online order. The balance will be due prior to shipment.
Would you like to send this to an address outside the continental US? Request a delivery estimate
In stock
It's All In the Details
We are committed to building furniture of truly lasting value. When you purchase a Thos. Moser piece, we enter into a lifetime of friendship and service. As the original owner of a piece of Thos. Moser, we will guarantee our workmanship and wood materials for your lifetime.
60 Men
& Women
Comprise our team of highly skilled woodworkers.
856
Years
Our craftsmen's collective woodworking experience.
1972
The year Thos. Moser was founded in New Gloucester, Maine.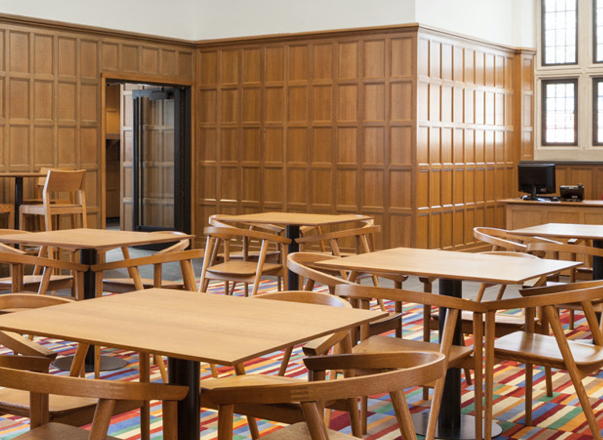 St. Paul's School
Are You Looking for Something More Unique?
Thos. Moser designs and makes furniture for hospitality, corporate and educational environments with a dedication to skill and precision in craft and to form and function in design.