Danish Modern: How Mid-Century Designers Learned from the past while Blazing New Trails
Danish Modern design as we know it today was originally rooted in the time period of the Industrial Revolution where post World War I doctrines led to a preference for functional, minimal designs that suited small spaces. Inspiration for Danish Modern designs can be traced back to none other than the Shakers. Scandinavian designers embraced the same principles of craft; a commitment to utility, a consideration of the proportions of the human body, and understated simplicity.
Unlike the Shakers, the Scandinavians developed a rich use of gentle curves, organic shapes and rounded edges. Designers such as Carl Hansen, Hans Wegner, Borge Mogensen and Arne Jabosen were among the first to discover, revere and reinterpret American Shaker forms with their own unique twist that embodied these more organic and curvaceous forms.
Several decades later, during the 1980's, the modern designs of this era re-emerged, and the term "mid-century modern" was born to describe the organic shapes and minimalist appeal that was Danish Modern design.
Copenhagen Calling
In 1984, Tom and Mary Moser traveled to Copenhagen to participate in their first ever international furniture fair. It was there that Tom first encountered Wegner's Wishbone Chair, a stunning minimalist design with its characteristic V-shaped back slat and other Danish interpretations of classic Shaker forms. This Danish design immersion led Tom to an epiphany: the great Danish Modern designers were doing exactly what he had done. They had looked back at the purity and functionality of historical forms, including Shaker to learn from them and transform them into something entirely new.
This trip to Denmark led to several design adaptations going forward – Tom focused new energy on reinterpreting Shaker forms for a modern sensibility. But it also reinforced the validity of what he had already created at Thos. Moser.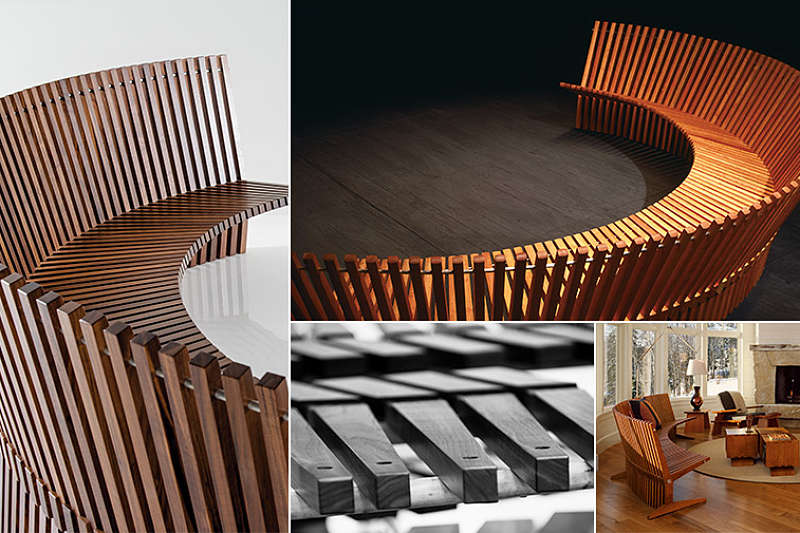 The Astral Bench was one of the first modern designs that Thos. Moser sold after returning from Denmark. This semi-circular bench carves a 180-degree arc in American cherry The whole bench is strung on steel rods which are in tension. Each of the 89 back components and 90 seat components are separated by stainless steel tubing to provide even spacing.
Photos: Astral Bench and  component parts awaiting assembly.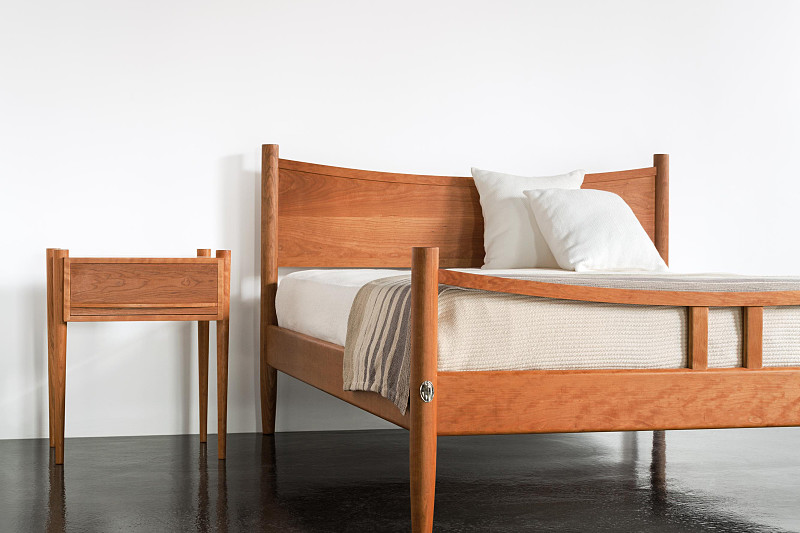 Launched in 2011, the Ellipse collection is purposeful and elegant in its simplicity. Embracing both Danish and Shaker design doctrines, the Ellipse Collection is unified by subtly tapered legs, curved drawer pulls, and shaped tabletops. Each piece in the Ellipse collection is a study in durability and restraint in the use of materials. Many of the pieces occupy a small footprint making them ideal solutions for urban living.
Cumberland and Hancock
Our Cumberland and Hancock  Collections further demonstrate Thos. Moser's ability to reiterate Danish and Shaker forms to arrive at something uniquely our own. The Cumberland Collection satisfies Danish design philosophies with its minimalist aesthetic, tapered legs, and use of traditional joinery. Cumberland and Hancock, explore the use of added natural materials; with vegetable-tanned leather and rush seating options.
These new designs represent another chapter of evolution for the Thos. Moser brand — and it has not gone unnoticed. Interior Design magazine named Cumberland among its "Best of Year" award winners – a sentiment echoed by a "Good Design" award from The Chicago Athenaeum: Museum of Modern Architecture.
As we continue to evolve and be inspired by the world of design, we acknowledge that the more we change, the more we remain the same – always relying on function, respect for materials, and excellence in workmanship.