Giants of Craft: Inspiration, Iteration, and the Creative Drive
At Thos. Moser, we believe that in order to be good designers, we must first be faithful students of design history. We believe design is iterative, and in order to synthesize and improve upon past forms, we must understand the framework that came decades or even centuries before. Tom Moser has lived by this truth, and actively immersed himself in the vocabulary of historical styles, joinery, proportion, wood-species characteristics, finishing and dozens of other disciplines that evolved centuries ago.
For any furniture maker, the greatest inspiration is the bone-deep need to create. To explore and discover the close-kept secrets of countless anonymous craftsmen who came before; their skill, creativity and innovations hidden in the joinery of a drawer, in the curve of a chair leg or the patina of an old and well used dining table, and waiting to be revealed.
The specific inspirations for Thos. Moser designs are diverse and widespread. As Tom Moser has said, the business of tracking them down can be dicey. Inspiration comes from many places: 19th Century American Primitive. Ruskin, Chippendale, Nakashima, Queen Anne, Frank Lloyd Wright, Hepplewhite, Plato, the ancient Egyptians, Arts and Crafts. The Shakers. The Bauhaus Movement. Is there a common thread that unites them?
George Nakashima
George Nakashima, master of wood furniture design, played a large role in inspiring both the designs and the business model of Thos. Moser.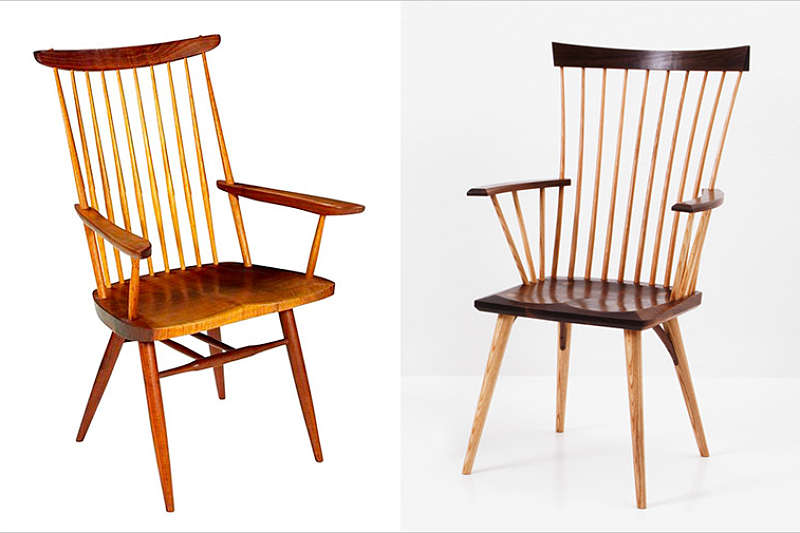 Nakashima was able to harmonize traditional furniture forms with his own iterative twist. His take on the Windsor form was infused with Japanese aesthetic and was unlike anything that 18th century craftsmen would have dreamt of. It was his take on the Windsor chair that inspired our own Eastward Collection, a longtime customer favorite.
Photo: Nakashima's take on the classic Windsor chair was one inspiration for the Thos. Moser Eastward chair.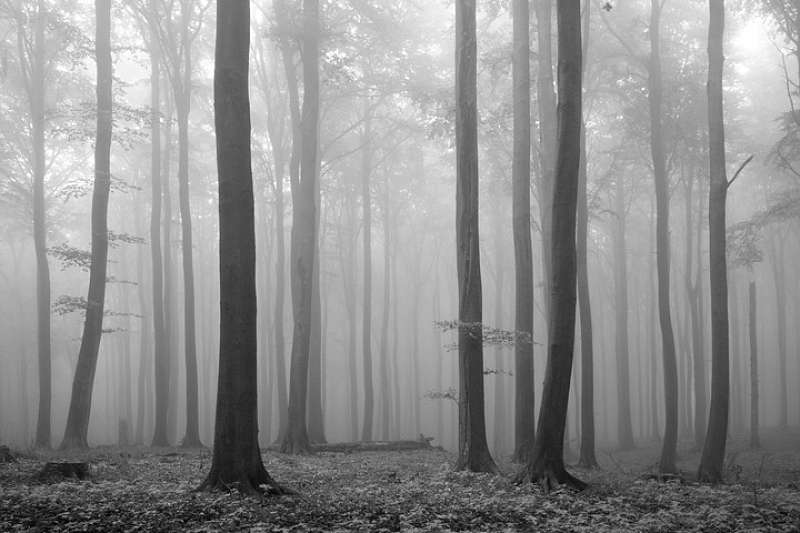 Nakashima also had a reverence for wood that informed everything he created. He believed in giving a tree a second life and capturing the unique spirit of it through woodworking. Thos. Moser has wholeheartedly embraced this same respect for wood and is committed to sound forestry in addition to crafting pieces with integrity that will last at least as long as it took the tree to grow.
It is an art and soul satisfying adventure to walk the forests of the world, to commune with trees, to bring this living material to the work bench, to give it a second life…

George Nakashima
The Shakers
The Shakers inspired the principles that still serve as pillars for our brand today; utility, economy and proportion. The Shakers did not base their designs around aesthetic, instead gathering inspiration from the materials they had available, the human form, durability and utility.
Sewing Table
Designed by James Smith, circa 1840.
Dr. White's Chest
Designed by Tom Moser in 1975 and updated circa 1983.
Blanket Chest
Shaker traditional, circa 1850.
Bauhaus
Founded in Germany in 1919, the Bauhaus design movement called for a return to the ideals of craft and artistry and away from mass production. Like the Shakers, the Bauhaus movement emphasized purity of design and stressed intellectual rigor. Among the many prominent designs to spring from the Bauhaus is the Barcelona Chair, designed by Mies van der Rohe in 1929. In our own Vita collection, we pay tribute to the graceful modern minimalist lines of this iconic chair.
Barcelona Chair
Designed by Mies van der Rohe in 1929.
Vita Lounge Chair
Inspired by Mies van der Rohe. Released by Moser 2005.
Grace
The graceful curves of our Vita Collection.
Detail
Our Vita bed seems to float effortlessly off the floor.
Arts + Crafts & Japanese
A great deal of Thos. Moser's aesthetic and inspiration came from the Arts and Crafts movement, which at its core embraced many of the same principles as the Shakers, while also borrowing and embracing aspects of Bauhaus and Japanese design. The designs that emerged from this movement celebrated natural materials and avoided superfluous decoration, but instead used joinery as ornament. As a result of this movement, in the early eighties, Tom Moser began incorporating visible joinery into his designs; a departure from Shaker tradition. He developed a notion that much of an object's beauty can and should spring from the structure that holds it together.
Dining Set
Frank Lloyd Wright, circa 1950.
Dining Set
Edo collection, Thos. Moser.
Japanese Rocker
Mid-century design by Mitsumasa Sugasawa.
Edo Rocker
Thos. Moser's Edo rocking chair, no longer available to the public.
historically ambiguous
Early Americans, Danes, Germans, English, Japanese. Notes from all these countries and movements can be seen in Thos. Moser designs. These varied inspirations make our pieces appear "historically ambiguous". Where did they come from? Are they old or new, modern or traditional? The genius of a Thos. Moser piece is one of synthesis and reinvention — of honoring the past by giving it new life. What came before is absorbed and reborn, as a musician absorbs musical notation and then transcends it, elevating static scratchings on a page into something wholly 'other' and new and alive. And those new iterations in turn inspire other makers.